Factory-Built Components Offer Savings for Custom Builders
The use of modular construction and timberframing to build custom homes saves time and money and makes for happier clients too.
Using factory-built components to build a custom home is becoming increasingly common because it saves time and money and results in a stronger house. Many projects can be completed in less than a year (music to the client's ears), and the aesthetic appeal of a prefabricated home can rival or even exceed a stick-built home.
Custom-built modular homes have been making inroads in West Coast markets where construction costs are high and labor is scarce. "There's a lot of pent-up demand, particularly in the more urban areas of Los Angeles, San Francisco, Portland, and Seattle," says builder Will Capper of Sustana Homes, in Los Gatos, Calif. In the San Francisco Bay Area, Capper says, the hard costs for a modular home are typically 10-to-12-percent lower than building the same home conventionally.
Toby Long, an Oakland, Calif., architect specializing in prefab construction, says that modular "has a role to play aside from simply being the lowest-cost delivery method. That [advantage] has traditionally underpinned the industry and probably will, in large part, in the United States. But in California, we have such a boom going on that resources are limited." Modular construction, Long says, provides access to a larger pool of builders.
Prefabrication also has a place in timber framing, which has traditionally been a showcase for handcrafted woodwork. Companies such as Mid-Atlantic Timberframes, in Paradise, Pa., are automating the timber-cutting process to help speed up turnaround and execute more complicated joinery (see sidebar).
Not your grandfather's modular
Capper says that the "Google/Facebook effect" in Silicon Valley is superheating the housing market. "There are an awful lot of very young, very rich people around," he says. Case in point: a couple who built a new modular home in Menlo Park, Calif., and sold it at a profit within months of moving in.
"I don't think they knew, at the beginning, [that they were going to build the house and then sell it], but they were definitely [open to the idea]," says architect Toby Long of Toby Long Design/Clever Homes, in Oakland, Calif.
The couple have two children, one in elementary school and one in junior high school. The Menlo Park location, within 
walking distance of shops, restaurants, and other amenities, 
appealed strongly to them.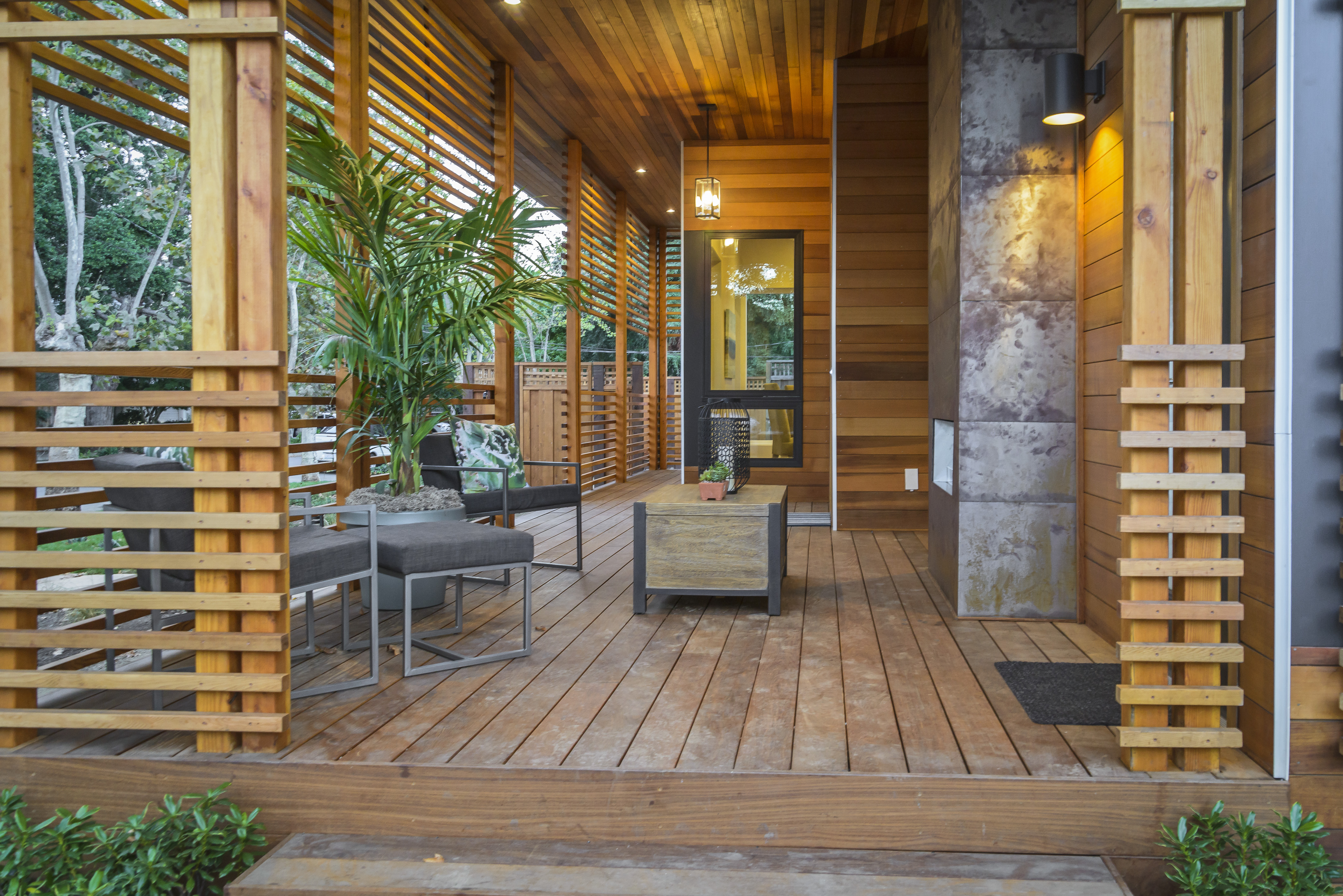 The front porch, with its fireplace, gives the home a friendly face to present to the street, while the cedar screens offer privacy on a busy corner (Photos: Dennis Mayer Photography).  
"They had been in the throes of a 
long remodel and felt pretty confident that they wanted to 
execute a prefab project." As Long notes, in Northern California, "We have no two anything—no two clients, no two sites, and no two budgets that ever repeat. The land that's left is not flat or easy." In this case, the site was small (5,768 square feet) and, he says, "extremely square, which made it difficult to identify the front yard, backyard, and so on." It's also on a busy corner.
The project had to comply with numerous controls imposed by the city, which cover everything from setbacks and property lines to limitations on square footage and lot coverage. "If you're going to maximize things, you have to carefully manicure all of the parts and pieces, [yet] make [the home] efficient and easy to build in a factory," Long says. The design also had to pass muster with the local design-review board.
As a starting point, the clients looked at the Origin Designs on Long's website and picked elements and details that they liked. 
For example, the Menlo Park home has a deep, screened front porch borrowed from an Origin plan, but the living areas are uniquely positioned to maximize the effectiveness of the design on that property.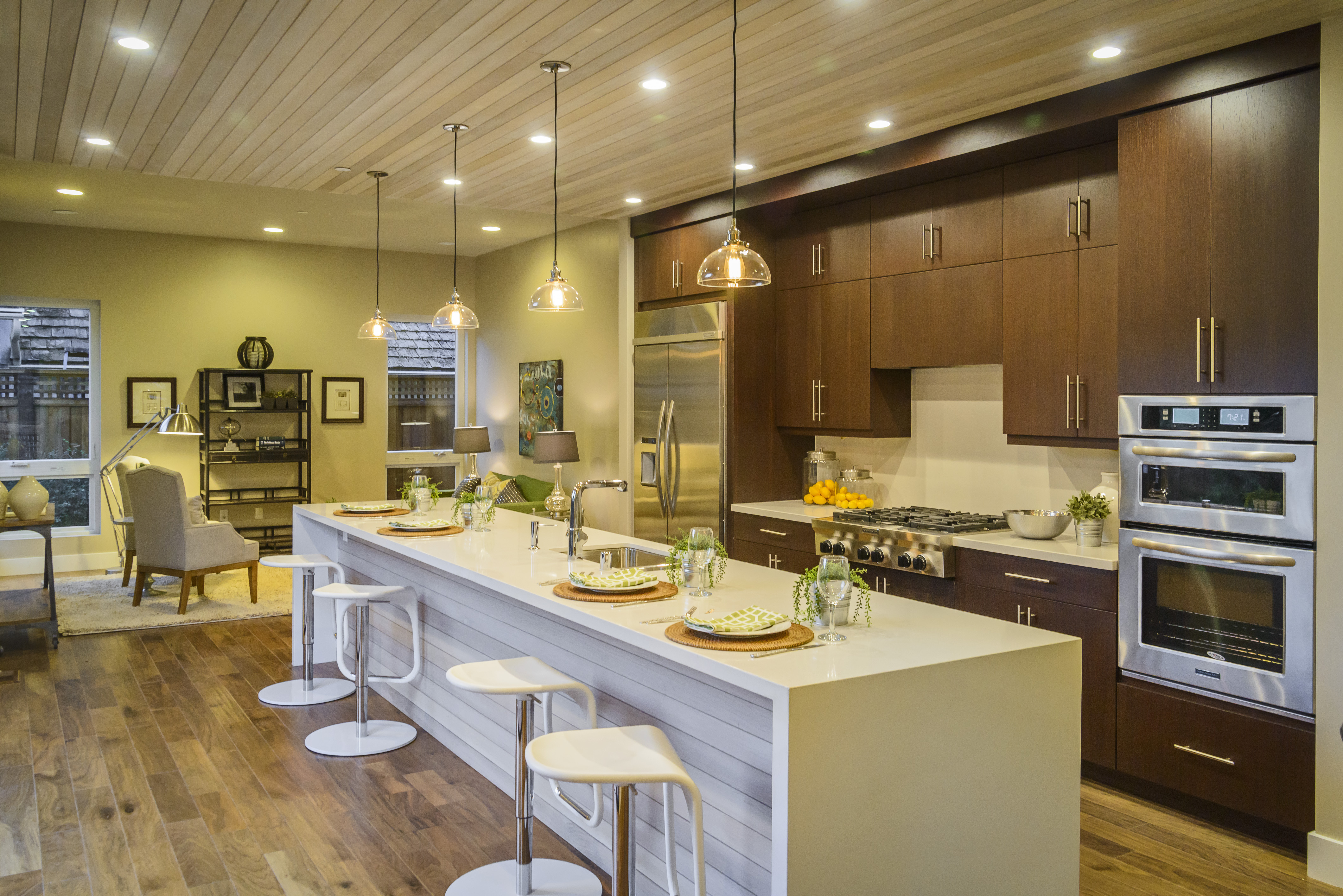 The kitchen is part of a module of casual living areas that also includes the dining room and family room/media room. Wood cabinets and floors add a warm feel to the space. 
Long squeezed a lot into the home's 2,784 square feet, including a living room and a family room/media room. "We made the living room a bit more formal and placed it away from the module that contains the dining room, kitchen, and family room," he says. 
"The latter areas are more open and casual."
With an eye toward future resale value, the home is equipped with "the requisite laundry room/mudroom and powder room off the garage, and good access and flow," Long says. A window seat at the stair landing creates a usable, bright, airy space.
Irontown Homes of Spanish Fork, Utah, completed 90 percent of the construction in the factory before shipping the modules to Menlo Park, says Kam Valgardson, Irontown's general manager. Three modules were fabricated for the first floor and four for the second. Once delivered, the site crew stitched them together, installed the stair railings and exterior cladding, finished the garage, and completed painting and trim carpentry at the seams.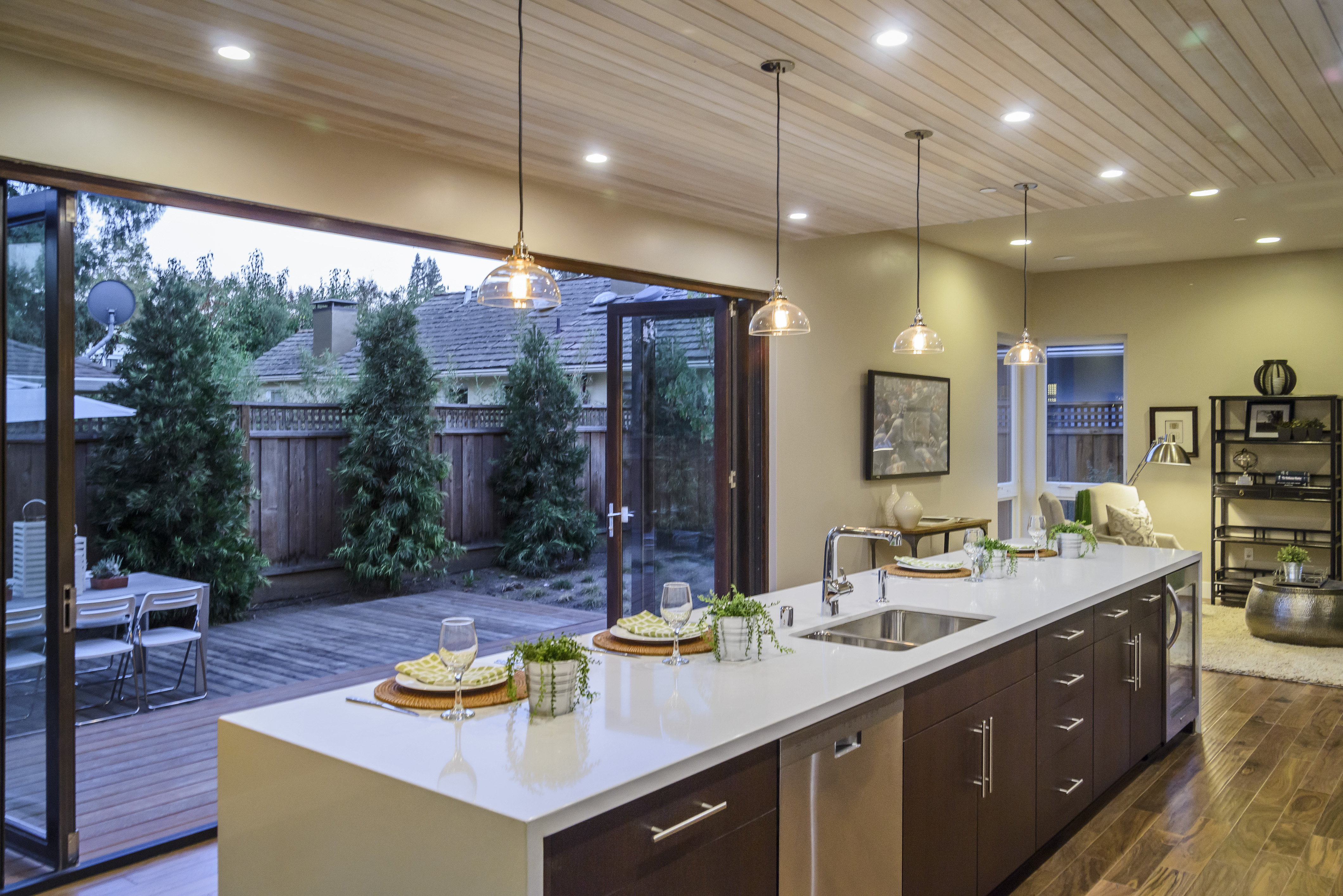 A large bifold door leads from the kitchen to a redwood deck at the rear of the home. "This is a suburban home in a somewhat urban context and there's not a lot of yard area, so we built an at-grade deck outside the kitchen and used a bifold door to get that indoor/outdoor quality," says architect Toby Long. 
Sustana Homes builds only single-family modular homes. "Our scope of work involves lot clearing and the demolition of existing homes on the lot, utility hookups, grading, excavation, foundation work, and any under-floor structural framing that needs to 
be done," Capper says. "Once the modules arrive and are craned into position, we take over, making structural, electrical, plumbing, and heating connections and doing post-infrastructure work such as drywall, patching, painting, hardwood floors, fences, decks, and exterior finishes."
He says that most projects take about six months, including the factory 
portion. "A single-family modular [home] is not only faster [to construct]," 
he adds, "but also gives you a significantly stronger house because the modules need to be transported over the road, picked up with a crane, and dropped onto a foundation."
Timber frame tour de force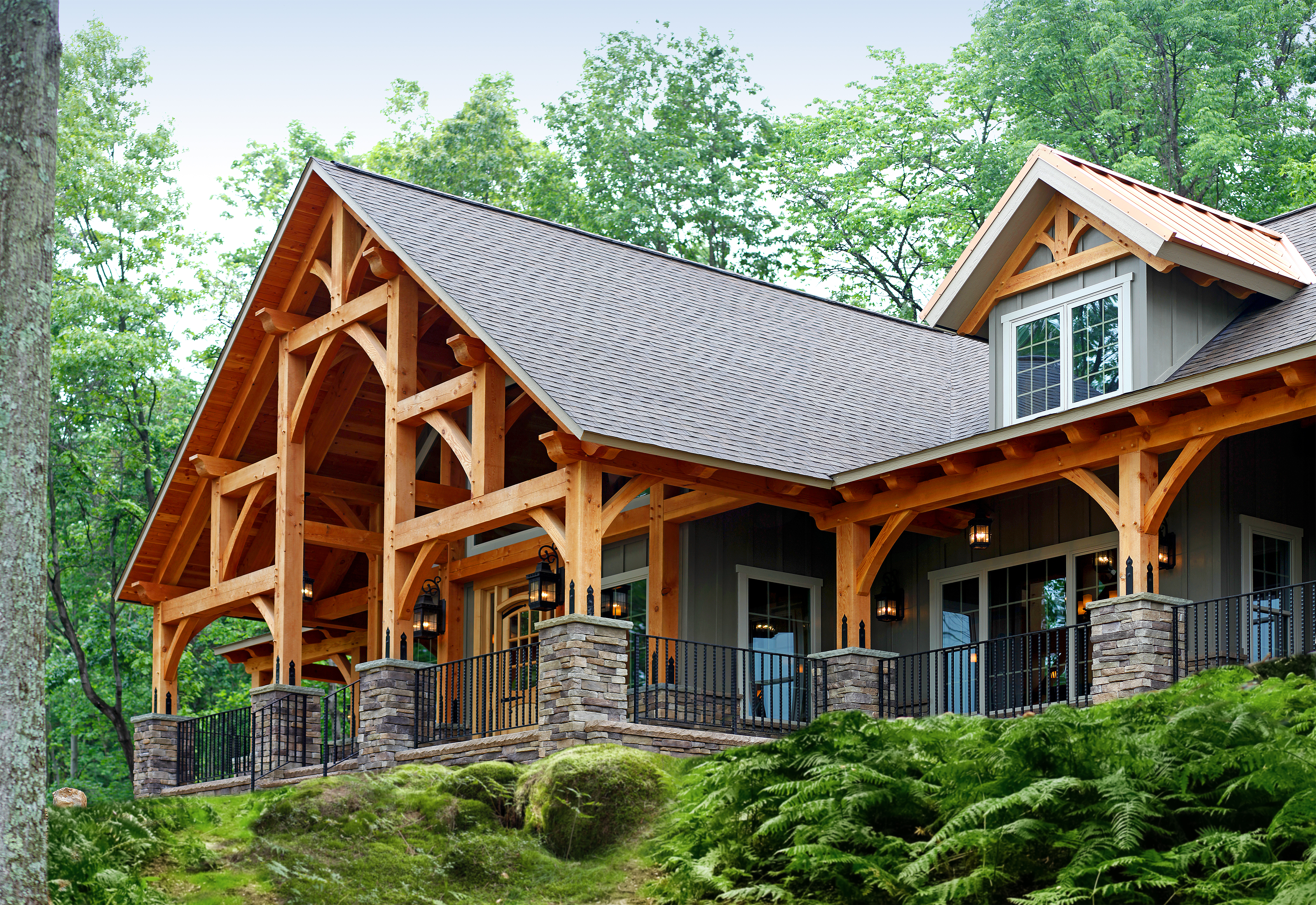 This custom-built timberframe home in Pennsylvania offers homeowners and guests views of a peaceful valley from the wraparound front porch. Vertical board-and-batten, fiber-cement siding complements natural stone and intricate timberframing.. 
At first, the clients thought they'd build a log home. But after a meeting with Sam Ebersol of Mid-Atlantic Timberframes at a log and timberframe home show, they switched gears. Mid-Atlantic took a set of preliminary plans that the couple had purchased online and guided them through extensive changes.
"We modeled the home in three dimensions and even put their furniture [into the 3-D model] so they could do a virtual walkthrough," Ebersol says.
The home is in Elizabethtown, Pa., on approximately 50 acres in a mountainous area surrounded by trees. The 5,000-square-foot residence is currently used as a vacation home for the couple, 
who have two children (one has left the nest). Eventually it will become their primary residence. 
It was built with aging in place in mind, with a 
first-floor master suite, two bedrooms upstairs, 
and a lower-level bedroom.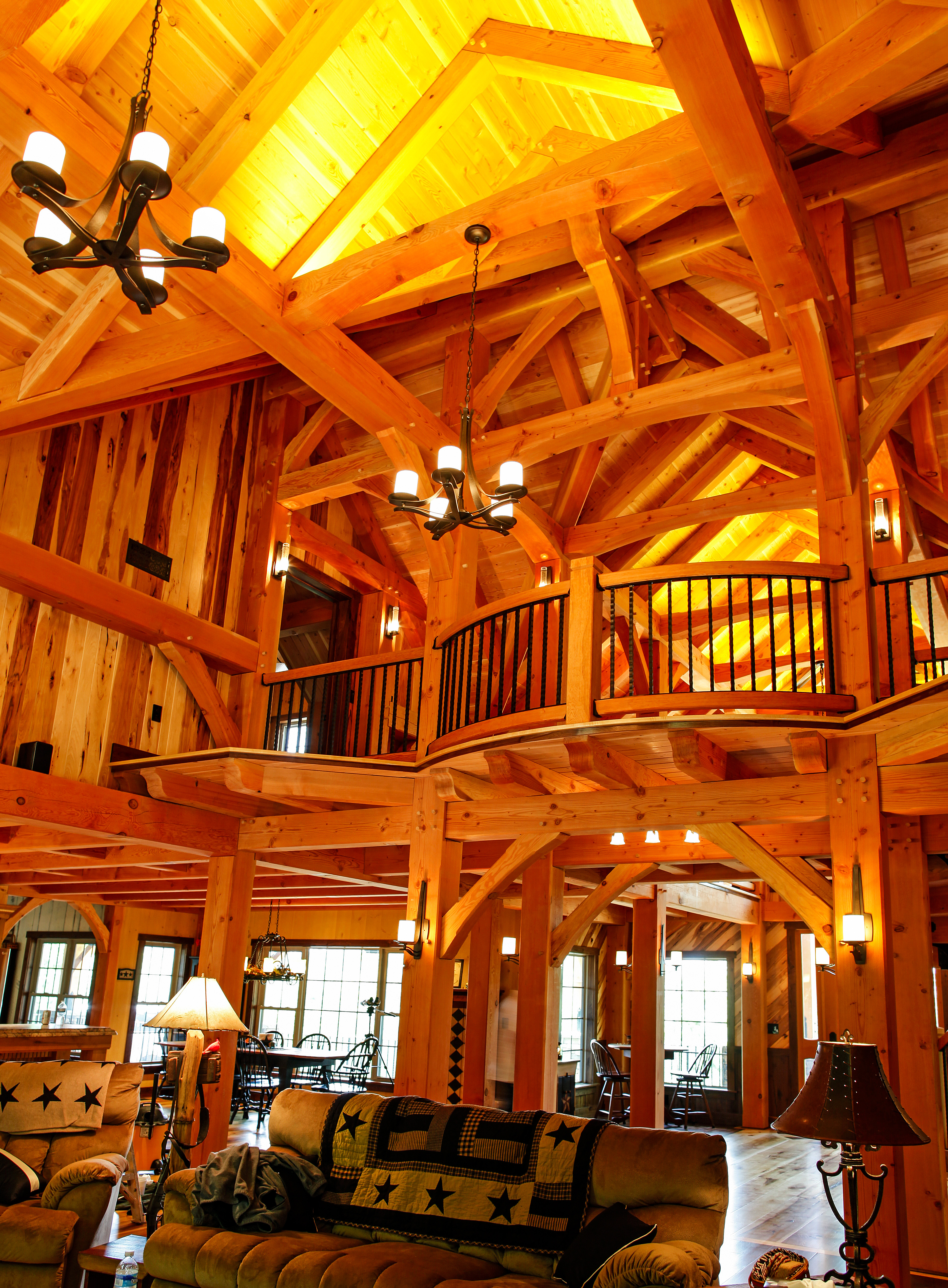 The great room's vaulted ceiling is typical of timberframe homes, with a second-story catwalk that connects the upstairs bedrooms. 
The clients added a small breakfast nook to the rear of the house, and finished the basement, which now has a home theater, a game room, a kitchenette, and a bedroom.
"We specialize in timberframe construction 
and structural insulated panels [SIPs]," Ebersol 
says, "so we team up with another contractor 
who will put the foundation in and take care of 
the subfloor. Once we're done with our portion 
of the work, [the contractor handles] the roofing, 
siding, windows, interior trim, flooring, and 
so on."
Due to the size and complexity of the project, it took Mid-Atlantic two weeks to cut the timbers in the shop. "It was in the middle of winter by the time we got on site with the SIP wall and roof panels," Ebersol says, "so it took a bit longer than usual—about four weeks."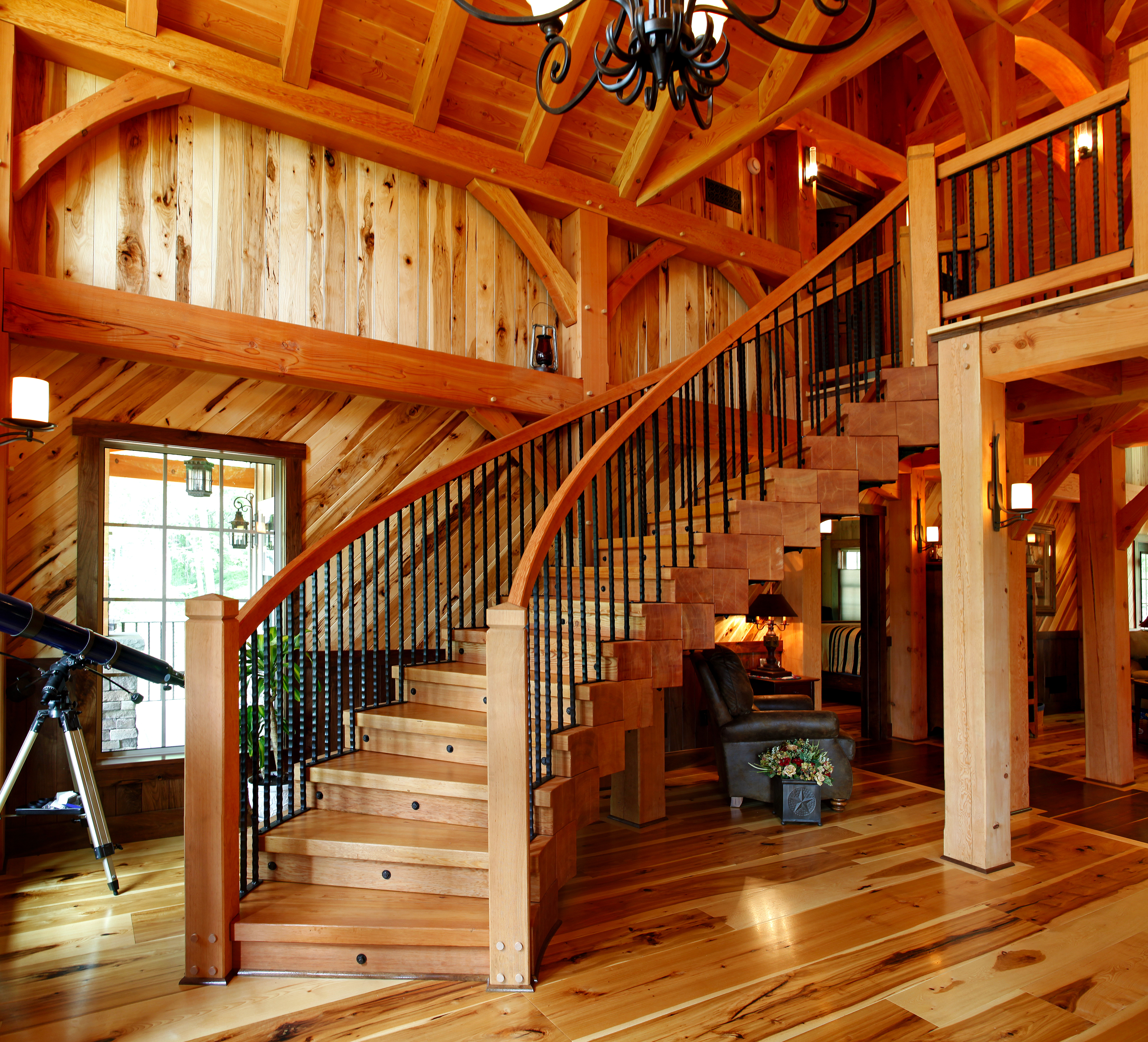 Mid-Atlantic Timberframes designed and built the one-of-a-kind, curved staircase, made of solid timbers with walnut treads. 
The open floor plan accentuates the beauty of 
the timbers. "Hands down, the biggest highlight 
of that home is the staircase," he says. "It was 
designed and built by us and is one of a kind." 
The stairs are constructed of solid timbers and 
have walnut treads.
Radiant floor heat keeps the home warm in winter and doesn't rise as much as forced-air heat, according to Ebersol: "It goes well with a SIP-and-timberframe home."
One thing that is unique about the home is its lack of drywall. The clients wanted the wood to be completely exposed, which Ebersol initially opposed. "But it turned out beautifully the way they did it," he says. Cedar, hickory, pine, and walnut appear in various parts of the house including the staircase, doors, flooring, paneling, and trim.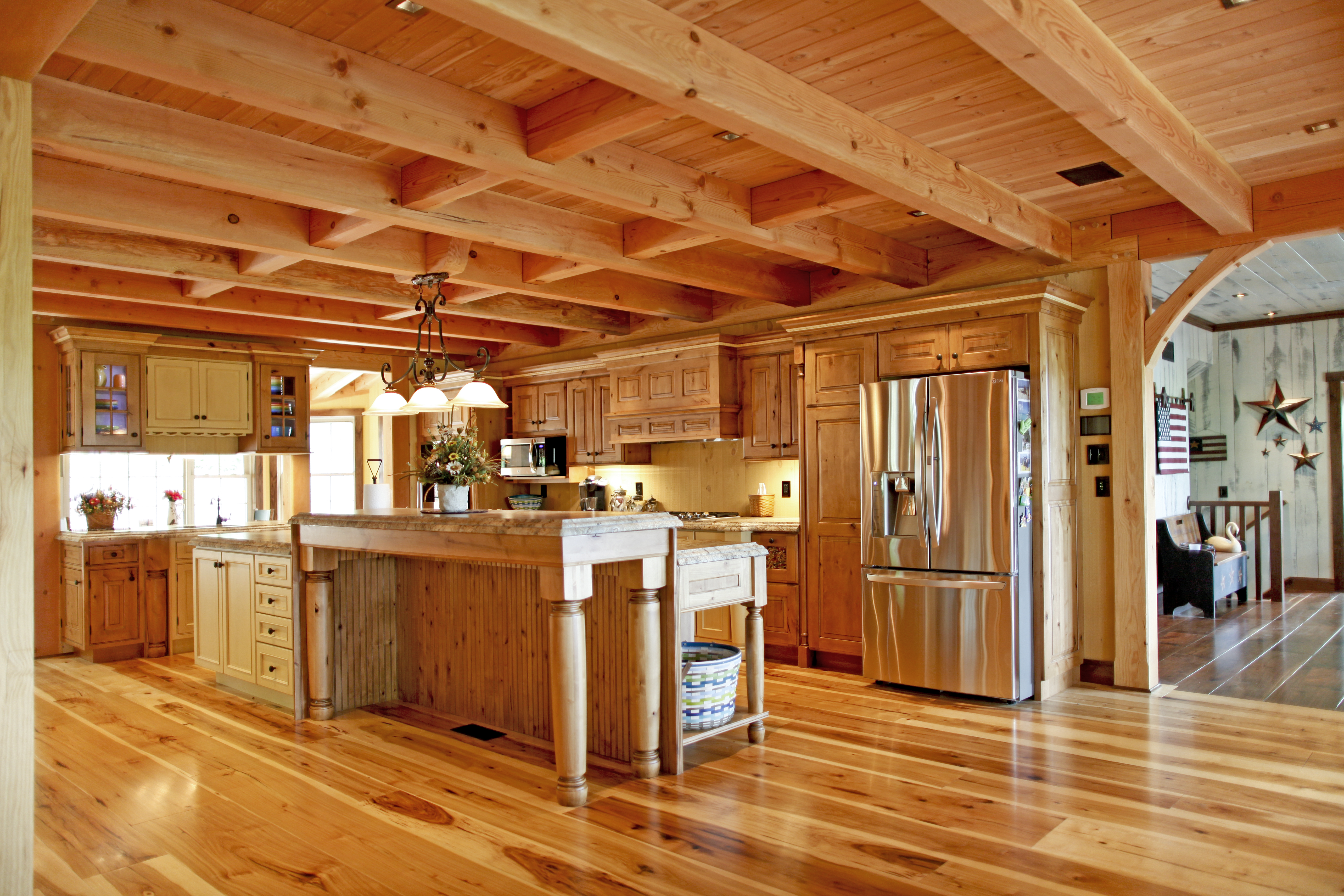 The kitchen accommodates an island that is almost 12 feet long and has the appearance of fine furniture. The floors are hickory, one of several wood species used in the house.
Sunset Construction of Belleville, Pa., completed the on-site work. Builder Sylvanus Peachey likens the project to building a piece of furniture. "It was more than just trimming out a standard house," he says. "It was more like artwork, with some of the wood [installed vertically] and some on the diagonal."
The front door is two-tone, woodgrain fiberglass that looks like walnut on the inside and is custom-painted on 
the outside to match the exterior finish. "We made the 
door glass to match the window glass perfectly," Peachey points out.
After Mid-Atlantic finished its part of the sitework, Sunset Construction spent another nine months on the job. The garage and laundry room were stick built, but the main part of the house came out of the factory.
"Our work made Sam [Ebersol's] part stand out even more," Peachey says. "Once people see this house, they decide they want a timberframe." 
Timberframing Synergizes People and Machines

Most timberframe companies in North America are small operations that still cut timbers by hand. Only about 10 percent use Computer Numerical Control (CNC) machines, usually made in Germany. Mid-Atlantic Timber Frames, Paradise, Pa., is the first to purchase an Italian CNC machine that can execute complicated joinery, says general manager Sam Ebersol. 

"The mom-and-pop timberframe companies cut one or two homes a year," Ebersol says. "We turn a home around every two weeks."

Mid-Atlantic's team of in-house designers uses CAD programs that can produce 3-D drawings.

"The typical architect still uses AutoCAD, which [creates] 2-D [images] that are great for working drawings," he says. "But one of our strong points is being able to virtually build a home, which eliminates a lot of problems on the job later."

Once the client approves the final design, it's sent to production, where Mid-Atlantic cuts the timber frames and produces structural insulated panels (SIPs) for the walls and roof. The CNC machine has enabled Mid-Atlantic to build complicated home styles "that the majority of timberframers who cut by hand won't even attempt. Therefore, it's opened up a whole new clientele [for us]: people who can afford $5 million homes."
Comments on: "Factory-Built Components Offer Savings for Custom Builders"