Some design firms are driven by a particular style. Some by their competition. Others, such as Build LLC, are driven by a philosophy. "Our architecture is highly inspired by the Scandinavians," says Andrew van Leeuwen, lead architect and partner at the Seattle-based firm. (There are three other partners: founder Kevin Eckert, project architect Sandy Ha, and project manager Bart Gibson.)
Van Leeuwen, who was studying architecture at Washington State University, and Eckert, who was studying architecture at The University of Kansas, met in Denmark more than 20 years ago while both were on study-abroad programs in Copenhagen.
"There's a different philosophy that we picked up on," van Leeuwen says, noting that Scandinavians maintain buildings so they are useful over time, with care and preservation of the materials used, such as tile, brick, and copper. When Scandinavians build new, he adds, they use materials and methods that are current.
Eckert started Build in 1999 and van Leeuwen came onboard in 2001. The company designs and builds single-family residential, multifamily, and commercial projects, and is named "Build LLC" as a distinction, van Leeuwen says. "We wanted to set ourselves apart because what we do and how we do it is all about getting to a built result. We've built 75 percent of all the projects we've had under contract for the past five years."
Design it Forward
Despite a love of tradition, Build's work is modern. "We just don't hit anyone over the head with it," van Leeuwen says, adding that "maybe the word 'timeless' replaces 'modern' as a softer approach to design that looks forward rather than backward."
That approach guides the entire design process. Materials, too, play a role. Lately the firm's clients have been stressing the need for "authenticity," which van Leeuwen says includes not only stone, metal, or wood elements, but structures that are "authentic to their time and place and to current technology, materials available in the market, and the methods that builders and subcontractors are currently using." He adds, "We're not pretending to be something we aren't."
In the Pacific Northwest, where Build does much of its work, clients want abundant natural light, so many of the firm's designs incorporate generous expanses of aluminum windows, which "are energy efficient, come in huge sizes, and pair well with big sliding or accordion doors," van Leeuwen says. And, because of Seattle's seismic activity, most of Build's houses are wood frame with a rainscreen. Build doesn't use brick. "You can only implement the brick in so many ways to make it functional in a seismic zone," van Leeuwen says. "You're fighting its heaviness the whole way."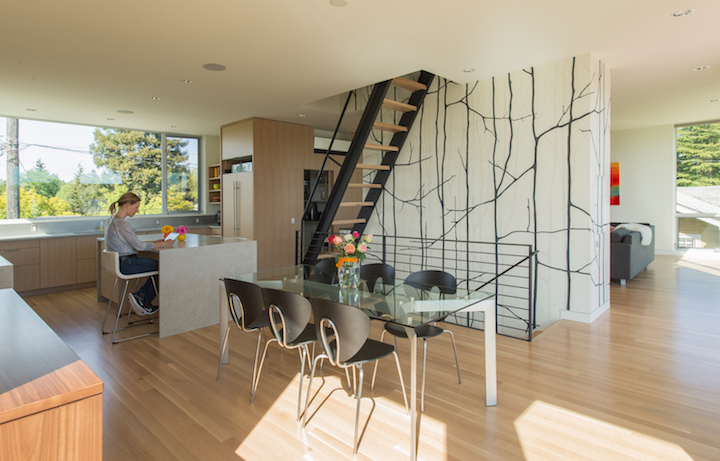 This 2014 Case Study house has amenities built in for an independent apartment unit on the lower level, complete with a kitchen and bath. Photo: Courtesy Build LLC
Sustainability is another key component of Build's work. "Sensible, even primitive, solutions can often play a more important role in sustainability than all of the products and gadgets that are too often responsible for the greenwashing that's currently occurring in the built environment," van Leeuwen says. "These solutions could be as straightforward as reusing an existing foundation rather than excavating a site, trucking dirt all over town, and pouring new concrete." Build did an energy calculation of this awhile back, which can be found here. 
Modern Design, Contemporary Mindset
Build's roots lie in design/build. "We're architects who think like builders, bankers, and engineers," van Leeuwen says. "And conversations in the office involve the full range of project considerations it takes to achieve a successful built result."
In an industry known for its competitiveness, Build openly shares its solutions with anyone who has Internet access. The firm is active on social media, and its beloved blog, now more than a decade old, offers information ranging from preferred specifications and tips on how to construct Build's details to travel guides and insights about social media.
Van Leeuwen's home and those of the firm's other partners are built as models called Case Study Houses. "We build them for ourselves and [in them] test different design ideas and lifestyle concepts that might not be ready for clients' homes yet," he says. The 2014 Case Study House has amenities built in for an accessible dwelling unit (ADU), with an option for an apartment unit at the lower level, complete with a kitchen and bath.
The 2016 Case Study House has the apartment unit completely built out, so the concept can be tested in terms of how it lives in the house and also how it functions in relation to its environs writ large. The ADU is designed using inclusive principles, with a curbless shower and access from sidewalk to street that could be fully wheelchair accessible, without any stairs. It has its own private terrace with sliding doors, all on one level. The 2016 Case Study is now van Leeuwen's home, and his mother-in-law lives in the apartment. "It allows us to have three generations under one roof," he says. "Our kids love it. They just assume everyone grows up with their grandparents."
"For homeowners, clients, builders, and other architects, there is no substitute for seeing … the one-to-one scale model," van Leeuwen says. "Clients may not agree with all of the design choices in a particular Case Study House, but experiencing the actual design provides an unparalleled method of making decisions."
Mindful Approach
In Build's design of functional homes with modernist influences, the designers consider the sequence of experiences in the approach to a home. "It's making sure the front door is easy to find and that there are moments to make the approach interesting," van Leeuwen points out. It could be the placement of a Japanese maple as a focal point, or designing the approach to provide a glimpse into the home from the exterior to pique one's curiosity.
When asked about the home's interiors, van Leeuwen (who has Dutch roots), again invokes Scandinavia: "Everything there is done mindfully with thoughtful design behind it—they don't simply build in traditional styles because that's in vogue. They take on projects and think about what would be the best application, what's going to be most relevant over time, and how things and buildings can have a life beyond our generation." CB
Stacey Freed writes about design from Pittsford, N.Y.