Doug Selby is a self-made builder, coming to the construction industry via a circuitous route that includes science, an interest in skills for living in the wild, and a dislike of waste. But once he had a clear vision of what he wanted to do, Selby and cofounder and COO Kirk Brandon launched Meadowlark Design + Build in 2004, and within two years shifted from being a straight-up remodeling company to a design/build firm that builds new homes. 
In 2006, Meadowlark built two homes on a city lot in Ann Arbor, Mich., that would become the city's first LEED Gold and LEED Platinum projects. Using ICFs (insulated concrete forms), SIPs (structural insulated panels), geothermal heating and cooling, and other green technology, the partners decided to do "all of the things we wanted to do with green building at our own risk and see if we could find a market for this," Selby says. They knew they were onto something when their local building organization asked them to give a tour of the house at the framing stage. They agreed, and a short article announcing the tour made it into the local paper. "The day of the tour, 90 people showed up," Selby says, "and most were just members of the public."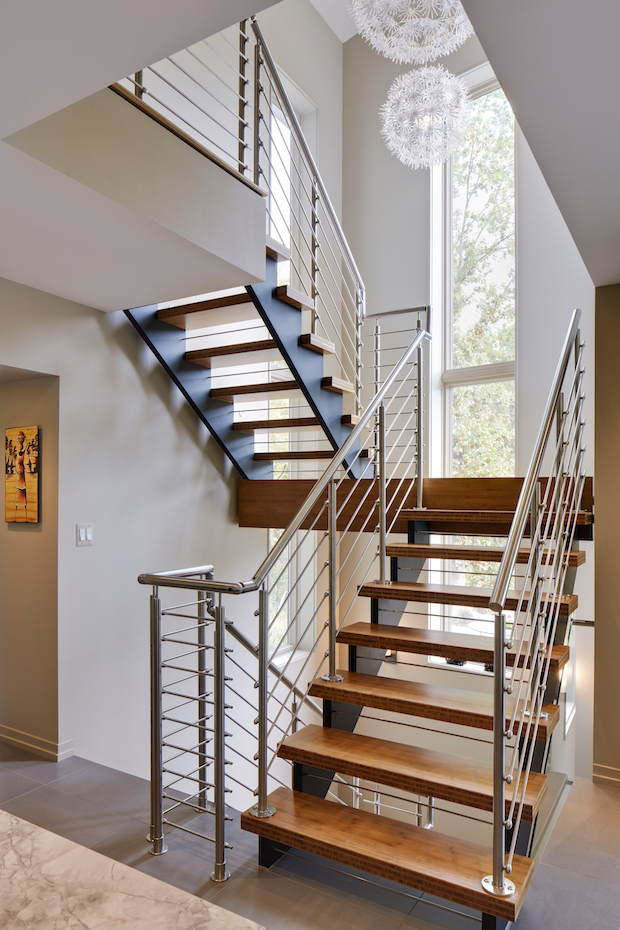 A custom-designed staircase with handcrafted bamboo steps "floats" between floors in the central stairwell of this Asian-inspired mid-century-modern-style home (Photo: Dana Hoff Photography)
The Doctor is Out
The youngest of 10 children, Selby was expected to be self-sufficient. He was also expected—by his mother, at least—to become a medical doctor. He followed that path for half of his college years at Michigan State University, from which he eventually graduated in 1991 with a degree in chemistry and a minor in physics. Selby spent an unhappy year working as a bench chemist for a pharmaceutical company before deciding to become a woodworker.
"My mother was displeased, to say the least," he says. But she wasn't surprised. "Apparently, my high school woodshop teacher had told her that I enjoyed working with wood and showed an aptitude for it and should consider it as a career. She told him I was going to be a doctor." 

Selby, together with Brandon, who had studied accounting, started their own woodworking company. "We didn't do very well," Selby says. "We probably were making $3 an hour. We had quite a bit of debt, for all of the machinery we'd purchased, and couldn't pay it off." 
They dissolved the business, and Brandon headed to Seattle to make cabinets for a luxury home builder. Selby went back to the lab, this time to do cancer research. On the side, he began to buy houses and apartments to renovate and flip or rent. That's where he got his real construction education. He worked every night until midnight alongside his subcontractors. From them he began to learn how to do concrete, heating and cooling, electrical, and how to pull permits. He loved his nighttime gig so much more than his day job that he soon quit the lab. 
Nature Calls
Brandon returned from Seattle, and this time Selby was prepared. In addition, he and Brandon had begun practicing what Selby calls "primitive awareness" skills. "We'd go in the woods with a knife and a blanket to see how we could live," Selby says. The pair would "make clothing from animal skins, make hunting implements, make fire. ... It was fun and rewarding, but you can't make a living doing it if you want to live in the modern world." 
Selby doesn't know exactly how his and Brandon's "primitive awareness" and respect for wild-crafting contribute to their business and design success, but, he says, it's "an ingredient in our long-term vision for where we want to take housing and what we want out of our physical plant. We want to set the example of what's possible for housing that's more like a living organism, in that it gives back at least as much as it takes. Humans aren't a blight on the landscape, but we've lost our way. I hate to see waste."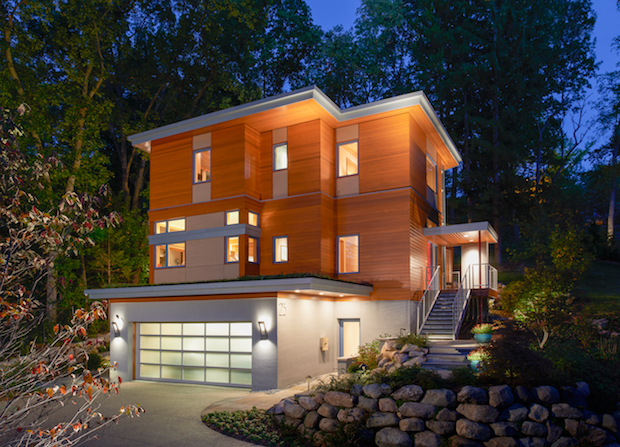 Meadowlark reclaimed the Douglas fir and western red cedar from the previous house on the site and used it throughout the interior of this home, which was designed by HopkinsBurns Design Studio, in Ann Arbor, Mich. (Photo: Carlson Productions)
Second Time's the Charm
With the two Ann Arbor spec homes, Selby discovered there was pent-up demand for sustainable building. He also discovered that few subcontractors could perform this work or were interested in doing it, so the duo developed their own in-house crews. By 2007, they had eight framers, four trim carpenters, and three designers on staff. Meadowlark made it through the Great Recession unscathed, and over the next four years grew between 50 and 100 percent every year, Selby says. They added staff, won awards, and continued to push the envelope in green building. "Each step of the way, we were able to get more media attention," Selby says. "At some point, this became a self-reinforcing loop."
Today, Meadowlark has 14 designers, 28 staff in the field, and eight in project management. It maintains its own framing crews and makes custom cabinets. It builds between five and seven custom homes per year and has a separate remodeling arm. "We don't design without building, but we will build without designing it ourselves," Selby says.
The two things all Meadowlark homes have in common are attention to craftsmanship and sustainability. "People are interested in resilient housing," he says. "Those who are looking for green building and quality workmanship are often referred to us by their architects." Some come directly to Meadowlark. The company focuses on Passive House concepts, and Selby says he's always "trying to find ways to get more efficient in how the company produces its homes." 
Getting the Word Out
Marketing, Selby says, "boils down to a lot of repeat and referral business—about 74 percent—and about 22 percent of leads coming from the Internet [with events and branding on vehicles and yard signs rounding out the mix]. We go overboard on staying in the loop with our clients and making sure we support our work many years after the project is complete. We form strong personal relationships with our clients and constantly nurture our relationships with the outside world." 
Stacey Freed covers design and the built world from her home in New York state.