Nick Schiffer is obsessive. His interest in woodcraft and building is a round-the-clock passion, and he wants to spread the word. It turns out, people want to listen—and watch.
In His genes
For Schiffer, playing as a kid meant hammering nails into the floor of his grandmother's kitchen. By 11, he was on the jobsite for his father's residential fence company in Stoughton, Mass. "I was the kid who cleaned up and put stuff away," Schiffer says. "I wanted to soak up as much knowledge as possible." Schiffer went to Southeastern Regional Vocational Technical High School where he focused on house carpentry and then did a four-year stint at Fitchburg State University, graduating in 2012 with a Bachelor of Science degree in construction management, "mostly because my mom wanted me to," he says.
---
Read More
* Social Skills for the Custom Builder
---
After school, Schiffer returned to work for his father. Soon a large Boston developer hired him away. "My hands were calloused and dirty when I went on the interview," Schiffer says. "The interviewer knew that with hands like these, I wasn't like the other kids he'd interviewed. They offered me significantly more money than I had ever made up until that point." Schiffer was torn about telling his father—and it did lead to a short-term rift—but Schiffer made the leap and worked his way up to running high-rise multifamily projects in Boston.
Yet he couldn't shake the urge to create, so on nights and weekends he grew his carpentry and remodeling business. "I was splitting 120-hour weeks between two jobs," Schiffer says. "My girlfriend, who's now my wife, was supportive but said, 'You'd better pick one or the other before you kill yourself.'" Schiffer left his day job and went out on his own as a woodworker and remodeler.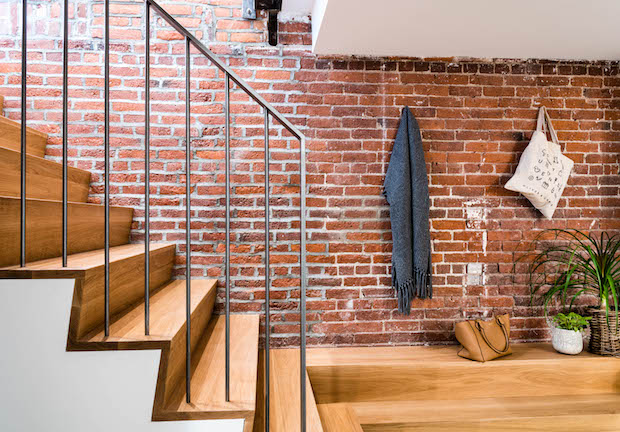 Signature handiwork: NS Builders fabricated this custom steel handrail off-site, predrilling all of the holes into the staircase. "We prayed that they lined up," Nick Schiffer says. (They did.)
Social Media Light Bulb
Schiffer started NS Builders—with its tagline of Design. Build. Repeat.—in 2014. His first job was remodeling the home of an architect he'd worked with at the Boston developer. That's about the time his obsession with Instagram kicked in. Schiffer recalls that he didn't view Instagram as a promotional venue back then. "I wanted to share on it and engage with people," he says. But midway through his first remodeling project, Schiffer got a call from some Instagram followers who wanted to talk. It was a light-bulb moment: "Instagram could be an advertising platform where I could connect with other like-minded individuals," Schiffer says.
Just as with carpentry, Schiffer set out to learn all he could. "I have an obsessive personality. When I see something I like, I go all-in and start researching it," he says. He began looking across industries at who was winning on social media, started following them, and emulated what was working.
In addition to compelling photographs—which don't have to be professionally shot but must look good—authenticity and interaction are important to Schiffer. "People want to learn," Schiffer says. "I talk to them, engage them, and say, 'That's great, but why not do it this way?' Or 'I tried it this way and had issues.' I'm really developing conversations. Success grew out of that."

Follow and Be Followed
As of this writing, Schiffer has more than 73,000 Instagram followers and nearly 1,800 posts that include stills and video of finished projects, work in progress, products, and photos with tips such as, "Put the valve (and steam control) on the opposite side of the showerhead to prevent getting wet!" That one has 2,034 likes and 54 comments.
Schiffer uses Facebook as a landing page, though he cross-promotes from Instagram. He's on LinkedIn for its professional and résumé-building connections and he shares content there, too. In addition, he says, "YouTube has been great for us." He's working on the launch of a series he describes as "similar to This Old House, where we show renovations and talk about them step by step, about what we're doing, the products we use, and why." He says he has nothing against Twitter, but he'd rather focus on what he knows and is finding success with.
Schiffer's audience is 25-to-45-year-old designers, architects, and builders. "That's where a lot of my conversations start, and then I get looped in with the homeowners," he says. Because he posts regularly, Schiffer believes his name bubbles to the top when architects and designers, for example, are searching for recommendations for clients. "More than 90 percent of our projects [out of the 15 to 20 projects a year ranging from $30,000 to $ 1 million] come through social media," he says. "From that, maybe 70 to 80 percent are coming through other professionals, and the other 20 to 30 percent directly from consumers."
He still gets energized by learning from others on Instagram such as BespokeWoodWrights, MatthewChaseWoodworks, ArtisanSignatureHomes, VerandaInterior, and StudioMcGee.
Schiffer has also had success with The Modern Craftsman, a weekly podcast he does with carpenter Tyler Grace, owner of TRG Home Concepts, in Medford, N.J., and John Hourihan, owner of Vintage Builders, near Boston. The three of them speak with guests from all channels in the building industry and discuss everything from products and processes to business successes and struggles. "We've got more than 200,000 downloads on iTunes and can be found across all platforms including Alexa," Schiffer says.
Cabinet artistry
In 2017, Schiffer opened a millwork side of the business to fabricate his own cabinetry, "so we own an entire project from warranty and also from brand recognition," he says. "You walk into a project and you know who built it because of the level of craftsmanship, level of care, and level of detail." Now, NS Builders has two people in the shop, one in the office, and four in the field. Schiffer is the owner but is also a project manager. The company does about $2 million in volume.
Schiffer's other social media mission is getting young people interested in building. The biggest challenge to the industry, he says, is finding help that's truly passionate about what they do. His aim has been to build a brand and a company culture that people want to be part of because its focus is on quality and craftsmanship.
One goal of The Modern Craftsman brand, Schiffer says is to go to events where he can reach high school students and talk to them about working in the trades and how they can have a successful career. "Kids want to do what's cool," he says. "We think it's cool to be a carpenter, to be a plumber. We need to make sure the younger generation feels as though their decision to be in the trades will be respected."
Sounds like this could be Schiffer's next obsession. 
Stacey Freed covers design and the built world from her home in New York state.