This story was originally published on our sister publication Professional Remodeler. See the original story here.
The New American Remodel will be open for tours during the International Builders' Show in February 2019. Sponsored by the National Association of Home Builders (NAHB), the Las Vegas project will showcase what architect and remodeler Michael Gardner calls "a farm-to-table theme," with a backyard orchard and garden. Pro Remodeler is the media partner for the home.  
Crews have removed much of the deteriorating, nondescript 60-year-old ranch and are transforming what's left into a contemporary design that would feel appropriate in nearly any part of the country. To that end, Gardner wants to demonstrate how good design principles apply no matter where you live.
The home is on one of Vegas's few tree-lined streets, in an area with no design restrictions and a mix of architectural styles best described as eclectic, with Colonial, Spanish, California Ranch, and Mid-Century Modern homes nearby. "It's an out-of-the box neighborhood populated by people who don't want to live in a master-planned community," says Gardner.
He recognized the neighborhood as the ideal backdrop for his goal of breaking from the desert modern architecture that defines much of the city. "If you look at photos of the home but don't have additional information, you won't be able to guess its location," he says. 
Here's a peek at the plans so you can see the vision for yourself. IBS and KBIS attendees can tour the home during show hours via buses departing every 30 minutes from the Las Vegas Convention Center. Tickets are handed out for each day on a first-come, first-served basis.  
Creating Flex Space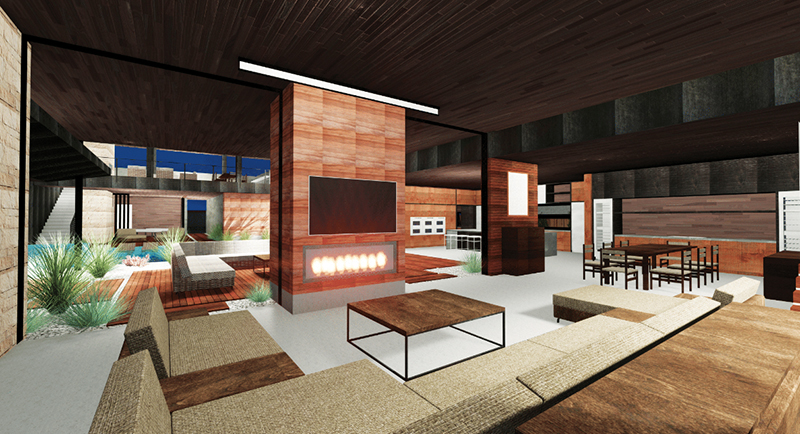 Sliding glass doors disappear into the wall behind the gas fireplace, letting the homeowners blend or separate the indoor and outdoor areas. Gardner designed the home with what he calls a "human scale," with no massive rooms or overly high ceilings. "Nothing is out of proportion," he says. 
Merging Indoors & Outdoors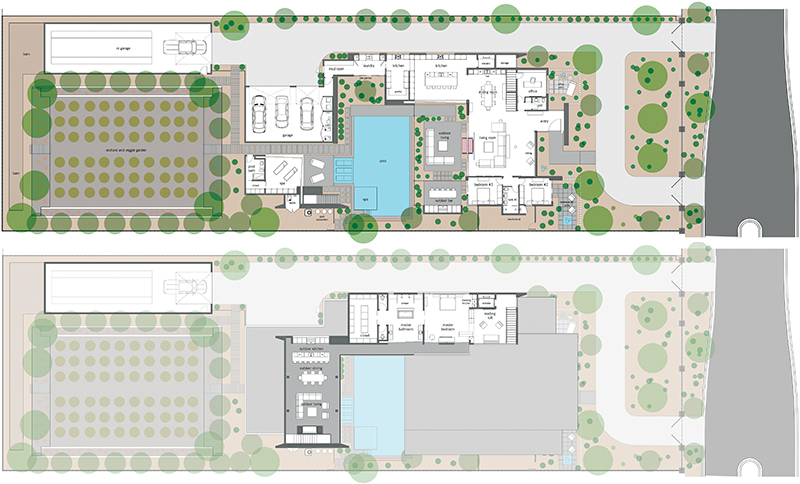 The completed home will have 5,300 square feet of conditioned space arranged to satisfy homeowners' demand for outdoor living as well as for privacy. The first-floor kitchen, dining, and living rooms wrap around two sides of a covered outdoor living area (shown in gray) with a pool at its center and a walkway to the orchard. A garage, a spa, and a wall enclose the other two sides of the outdoor area, creating a secluded retreat. An additional second-floor loft area also overlooks the pool.
The Inner Sanctum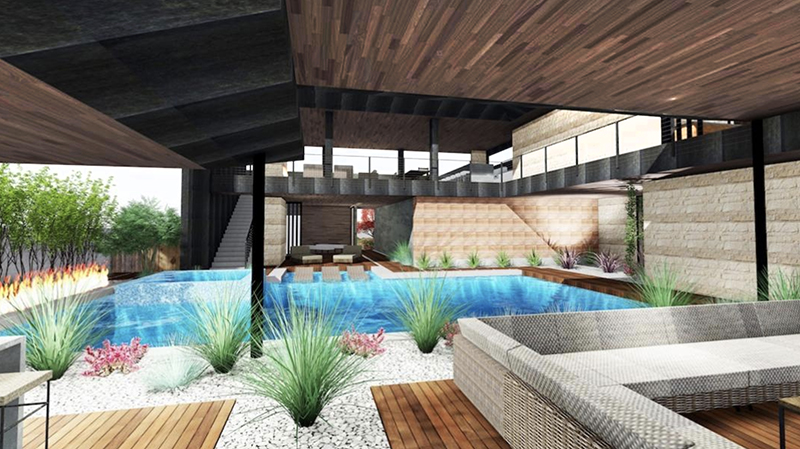 Visitors can enjoy the pool from the covered outdoor living room and bar, the second-floor outdoor loft, or an adjacent patio (not shown). The outdoor living room can also open to the great room for entertaining. Gardner designed the space so that it gets direct sun in only the morning, minimizing solar gain during the hot Vegas summers.
Eating Local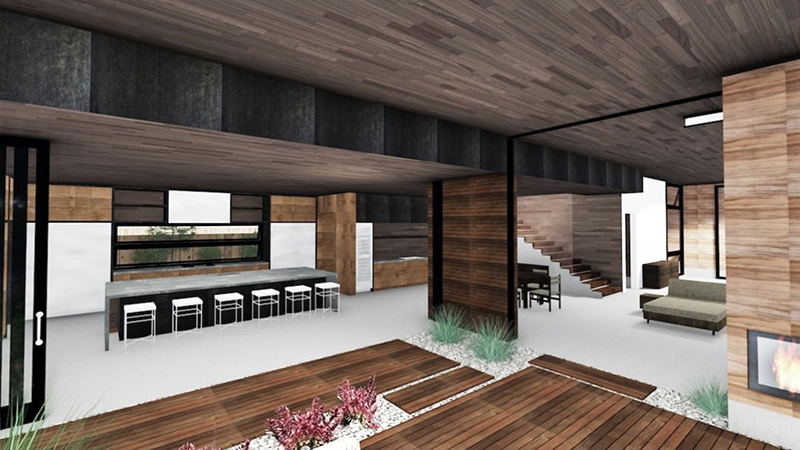 As part of the farm-to-table organic concept, the kitchen will feature an urban cultivator refrigerator that can be used for growing organic vegetables, herbs, and microgreens. 
A Layered Entry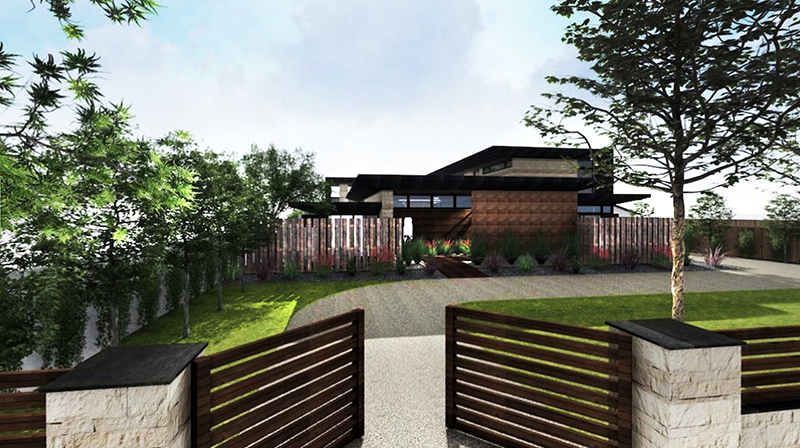 "We wanted the home to feel organic from a materials standpoint," Gardner says. "We also wanted to pull details from other homes in the neighborhood but use them in a more contemporary way." To this end, he hid the front door and instead emphasized the blend of materials that includes block walls, stucco, wood, and concrete. The deep setback leaves plenty of room for landscaping with grass, gravel, and plantings to add further interest.
Urban Farm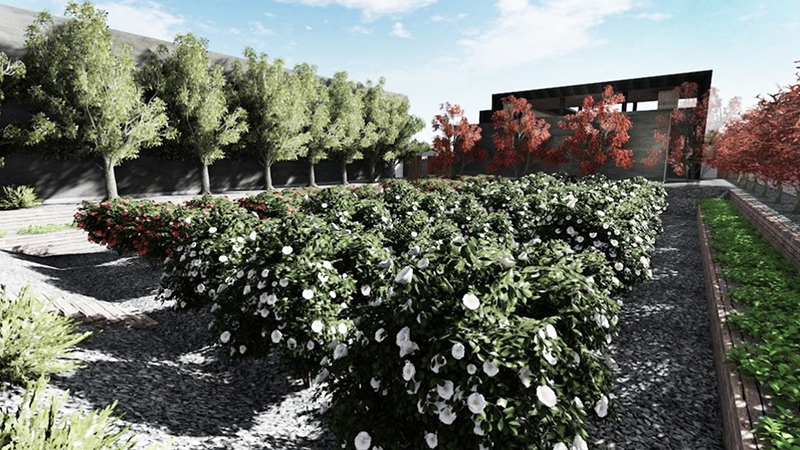 The neighborhood has an agricultural zoning designation. That allowed Gardner to plant a backyard orchard with assorted fruit and nut trees, as well as an herb garden and a raised bed with vegetables. He deliberately specified trees and plants not associated with Vegas. "We wanted a non-desert looking landscape," he says.
See the original story here.