Design Details: Wheeling Wall
This moveable wall is an 8-by-8-foot barrier and a storage space for large artwork.
Moveable wall separates the study from the living area (Photos: Andrea Calo).
Project: Cascadera Residence, Austin, Texas
Builder: RisherMartin, Fine Homes, Austin
Architect: Steinbomer, Bramwell & Vrazel Architects, Austin
The lively real estate market of Austin, Texas, is a fertile place for design. Jeremy Martin, principal of RisherMartin Fine Homes, has been lucky. "We're building some knockout stuff that's very expensive," he says. 
But also important are "budget-minded projects that respond to client needs," Martin says. Here, a movable wall separates a study from the living area in a 2,700-square-foot open-plan home. The clients are empty nesters who work at home (she's a sculptor, he's a consultant) and love entertaining. When company comes, the freestanding wall is rolled aside to open up the study so guests can flow in and out.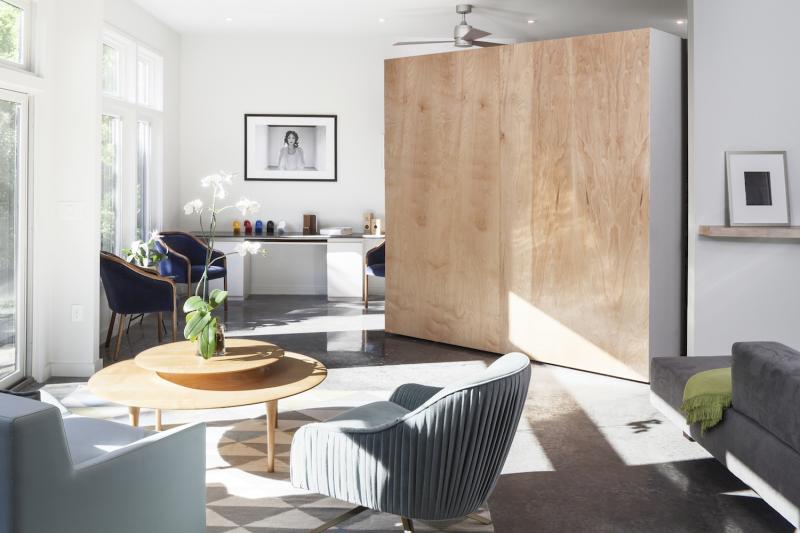 On lockable casters, the 8-by-8-foot wall is more than a mobile barrier. Two feet deep, it serves as storage for large artwork and has ample spots for charging (a floor outlet was installed where the wall often sits). The stain-grade birch plywood side faces the living area most of the time. On movie nights, the wall can pivot 180 degrees and its gloss-white side becomes a projection screen. 
It was actually the client who came up with the idea and sketched it out. "The first thing I thought, was, How do I build this so it won't topple, looks good, and stays within budget?" Martin recalls. The entire wall was made from leftover framing materials, weighted at the bottom with offcut LVL beams. The final cost was less than $1,000, says Martin, adding, "Sometimes clients need functional things that don't break the bank."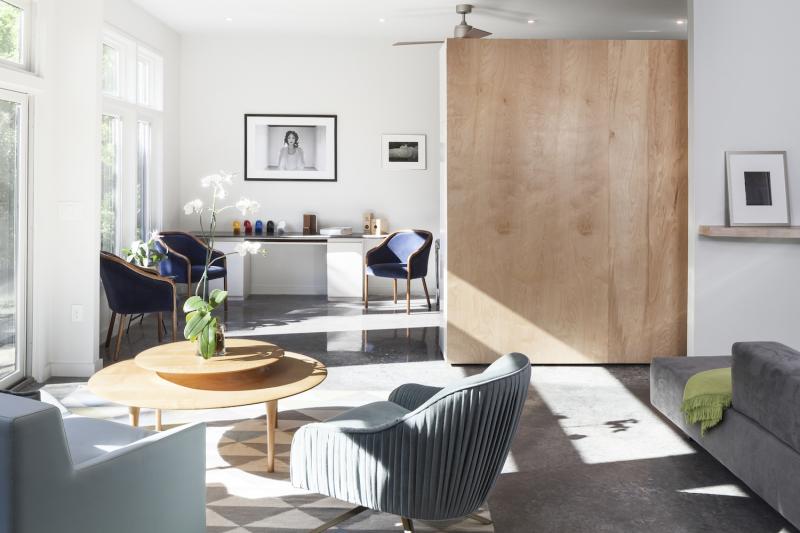 Comments on: "Design Details: Wheeling Wall"