The ability to build fine custom homes on urban infill sites has its rewards. Even when the overall housing market is soft, there are always customers who want luxurious homes in desirable neighborhoods. That's especially true today as large numbers of 50-plus home buyers choose to live in town, where they can walk, bike, or take public transportation just about anywhere. 
Fed up with commuting, affluent couples with children are also relocating from the suburbs. They still want a sizable house, but they're willing to trade big lawns for smaller, well-appointed back yards, roof decks, and terraces. Regardless of age group, buyers also recognize the benefit of owning a new home that features the latest in sustainable design, systems, and materials. 
Two companies that have mastered the complexities of urban infill are Chicago's LG Construction & Development and Allen Associates of Santa Barbara, Calif. Let's take a look at recent projects by both builders.
Oasis in the city
Victoria Garden Mews, a one-of-a-kind community in Santa Barbara, Calif., was conceived by a group of friends who were contemplating retirement. Dennis Allen, founder of Allen Associates, a Santa Barbara custom building and remodeling company, spearheaded the project. 
The site is in a historic district three blocks from the main street in downtown Santa Barbara, and was occupied by a rundown, 1870s Victorian-style house when Allen purchased it. The dimensions of the lot — 50 feet wide and 225 feet deep — were ideal for what he had in mind. 
After purchasing the property, Allen and architect Dennis Thompson began a series of meetings with the historic landmarks commission and planning department. They proposed four units: the Victorian house at the front and a three-story condominium building at the back. What made the whole plan work was the parking concept: garages with hydraulic car lifts allow two automobiles to be stacked in one space.
Allen and Thompson's plan was to demolish the existing garages in the alley at the back of the site and integrate attached, two-car garages into the condo building. The stacked parking accommodates eight cars, reducing 25 percent of the footprint devoted to driveways and increasing the amount of garden space. 
The original plan to remodel the existing Victorian house was scrapped after Allen discovered a substantial amount of wood rot and listing floors. It took another six weeks to get a permit to rebuild from the ground up, "but we ended up saving a fair bit of money," he says.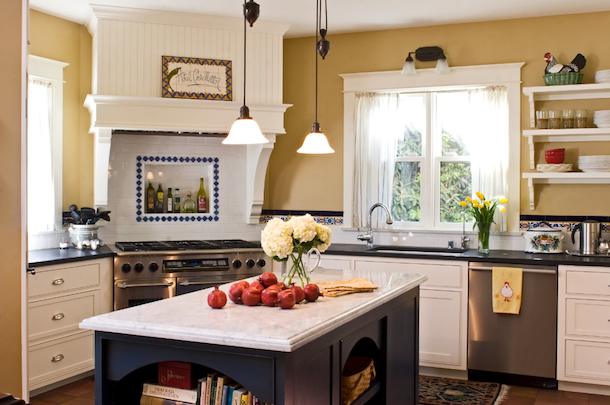 Thompson's design is faithful to the look of the old house, with some modifications to make it more authentically 1890s Victorian. The 40-foot setback allowed for a deep front yard, and a back door from the kitchen accesses the shared courtyard and garden. The two-story home is 2,520 square feet.
The building at the rear of the site offers three condominium units, each one unique in floor plan and finish. The homes on the first two floors are approximately 1,700 square feet, while the third-floor unit, which steps back for a wedding-cake effect, is 1,100 square feet.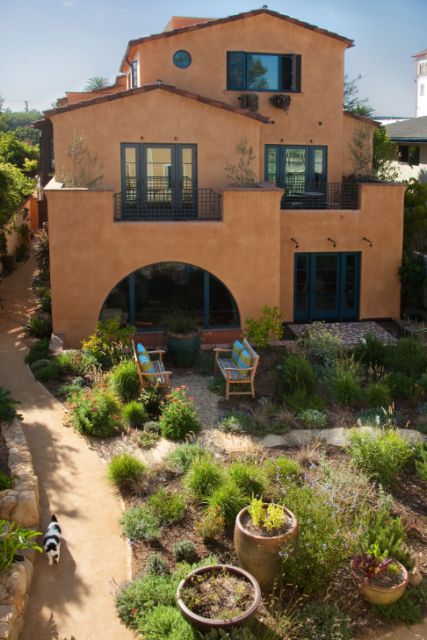 The garden was a critical part of the plan. "All of the residents had been living up in the canyons with beautiful trees and wildlife and a lot of natural beauty," Allen says. "Our goal was to re-create as much of that as we could in a downtown urban setting."
Grace Design Associates, a Santa Barbara landscape design firm, worked with the homeowners to select native plants and trees; design a pathway from the front of the site to the back; install fountains; and provide various seating options. There are 30 fruit trees, a vegetable garden, and a beehive, as well as plants that attract birds and beneficial insects. The homeowners — Allen and his wife and three other couples — share the maintenance as well as the bounty.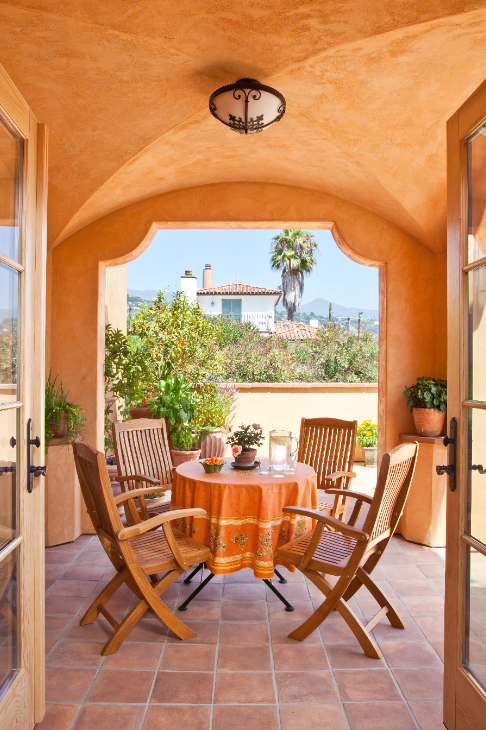 The project is certified LEED Platinum. Its numerous green features include passive solar design; rainwater harvesting; solar PV panels for electricity and hot water; cool roofs; low-e windows; high-efficiency HVAC equipment; and water-efficient plumbing fixtures. 
With shops, restaurants, entertainment, and public transportation so close by, Allen has gotten rid of his car and either walks or rides a bicycle everywhere. "It's a giant step closer to our goal of living a fully sustainable life," he says.
[PAGEBREAK] 
Lightening up the limestone mansion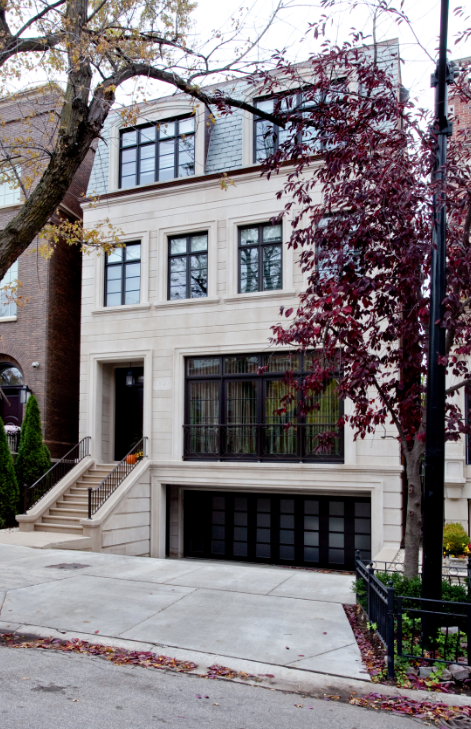 LG is known for its stately custom homes in prestigious Chicago neighborhoods such as Lincoln Park. Says LG's Brian Goldberg, "Our work volume remains stable no matter how bad the market is in general." But building on infill sites in such neighborhoods is not for the faint of heart. He notes: "You're building within 1 or 2 feet of your neighbor, so it's very dangerous. You'll be excavating next to a 100-year-old house that's not in great shape." 
The company recently completed the personal residence of a real-estate broker. "We've built several houses for her on a spec basis, but this particular home was built for her to live in with her family," Goldberg says. 
Excluding the garage, the home is 8,833 square feet. At 32 feet by 125 feet, the lot is a bit wider than the standard Chicago lot and doesn't have an alley in the rear, so the garage is front-loaded. In compliance with a local zoning ordinance, it's 50 percent below grade. LG installed a snow-melt system in the steeply pitched driveway and radiant heat in the garage. Also on the garage level is an exercise room, a recreation room, and a wine cellar. 
"The client wanted high ceilings and open, warm living spaces, and she had a transitional style in mind," Goldberg says. "The home is elegant with crown molding and nice trim, but it's a little cleaner and not overly traditional." The ceilings on the main floor are 11 feet, 6 inches and 10 feet high on the other floors.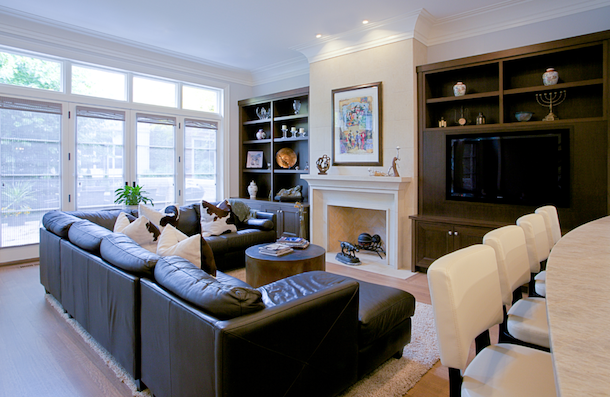 Goldberg says the client came to him with a "well conceptualized" floor plan. "She knew exactly what she wanted, down to having the laundry room next to the master bedroom," he says. 
Phil Casagrande of Casagrande Architects, Chicago, says the plan is based partly on a previous house he designed for the client. He was pleased that she wanted a façade that was a little more contemporary than the heavy limestone structures prevalent in the neighborhood. 
"I immediately thought of lightening up the façade by punching some large door and window openings in it, rather than putting columns over the garage door," says Casagrande.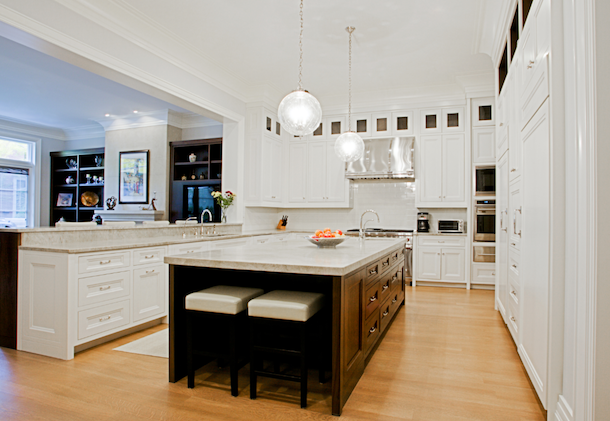 Goldberg's favorite room is the chef's kitchen, which is equipped with a massive island and professional-grade appliances, including two dishwashers and a warming drawer. Formal living and dining rooms at the front of the house are balanced by a great room at the rear. This expansive room has a fireplace and coffered ceiling and opens to a terrace and a back yard that is approximately 25 feet deep.
On the second floor are the master suite and the children's bedrooms, each with a private bath. The third floor includes a family room, a study, and two additional bedroom suites, and has access to a roof deck. The curved staircase is a conversation piece in itself, though there's also an elevator for convenience.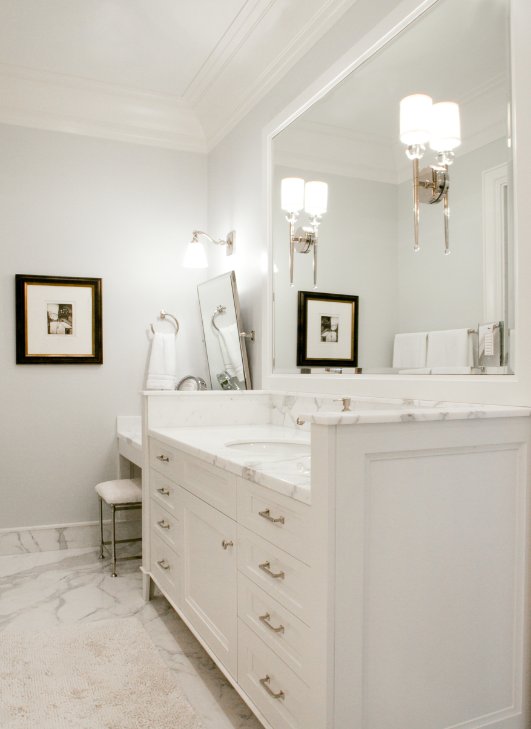 "I love that space in the back with the kitchen and great room," says Casagrande. "It's where people live 90 percent of the time." His goal was to make the space comfortable for family gatherings as well as large numbers of guests.