Off the Grid
One of the goals of this project was to make the kitchen more sustainable, in keeping with the client's environmentally conscious lifestyle. Because all of the electricity for the farmhouse is generated by on-site solar panels, the client wanted to reduce energy consumption as much as possible. 
Every custom home is personal, and nowhere more so than in the kitchen and bath. All of the projects featured here are as individual as the homeowners themselves, but the ideas and details could energize your next home design. Among this collection of kitchens and baths are winners of the 2015 National Kitchen & Bath Association (NKBA) Design Competition.
To that end, the fluorescent track lighting was switched to LED can lights and undercabinet lighting. A new Energy Star-rated refrigerator and dishwasher were installed, and the gas stove was replaced with an induction cooktop. A pullout was made to fit the client's compost bin. Many components were made from reclaimed or repurposed materials. For example, the cabinetry was built by a local cabinet shop from wormy chestnut shelves rescued from a warehouse. The stained glass, which came from an Arts and Crafts home, was discovered at a local salvage shop. The booth seating is made from church pews, and the table is made of wood from an old silo.
Designer: Dorig Designs, Eau Claire, Wis. 
Remodeler: Wood Wright Construction, Neillsville, Wis.
Photos: James Netz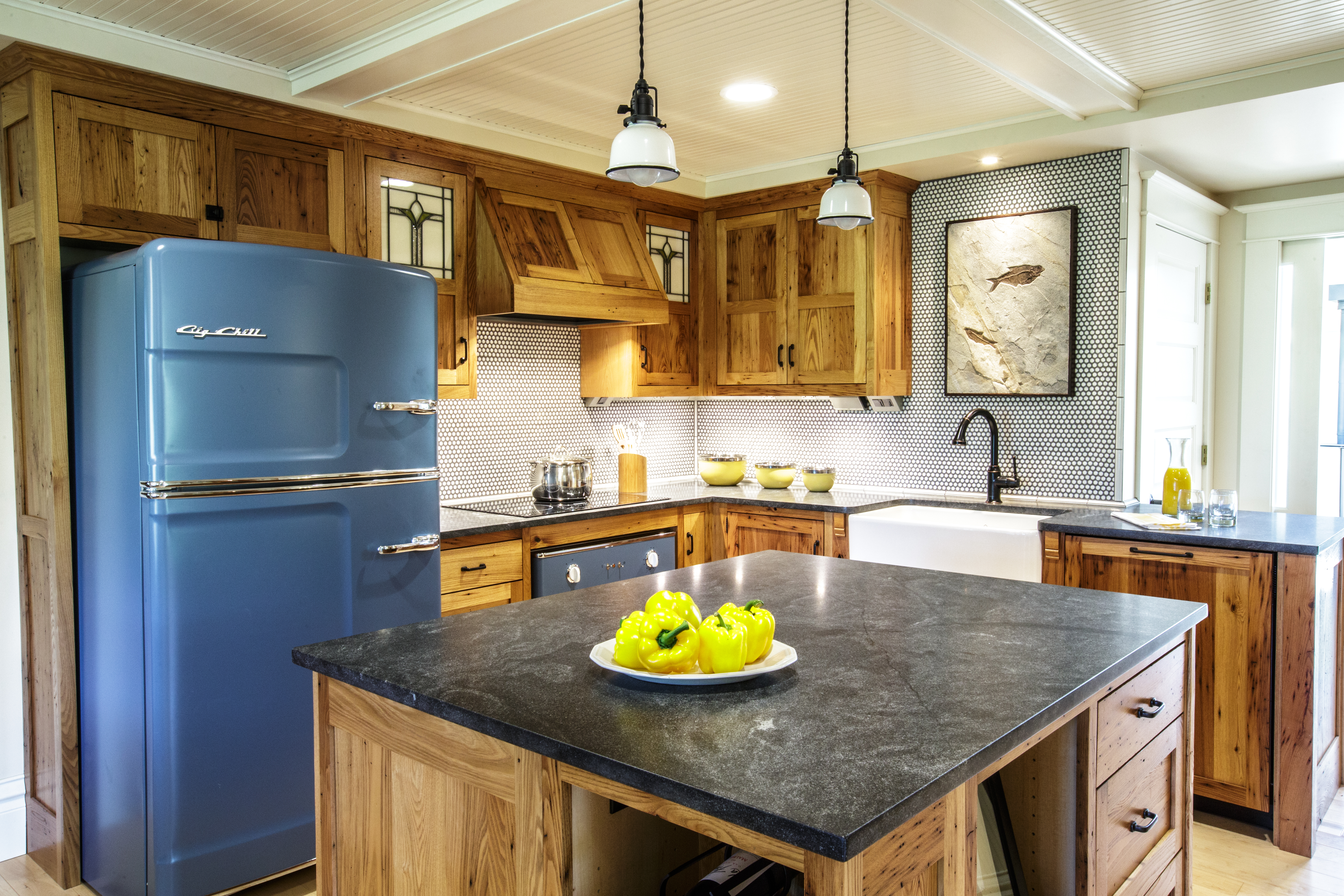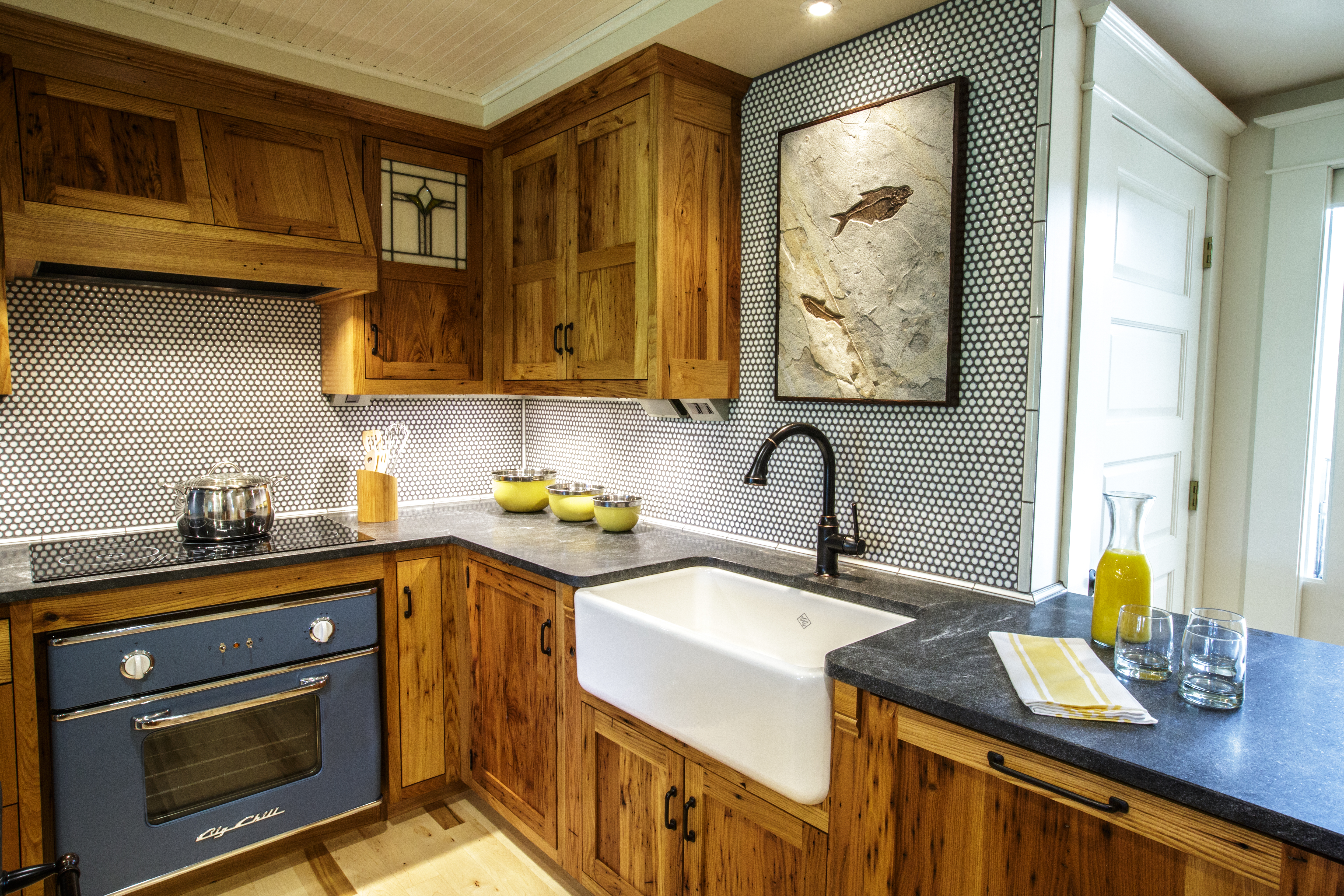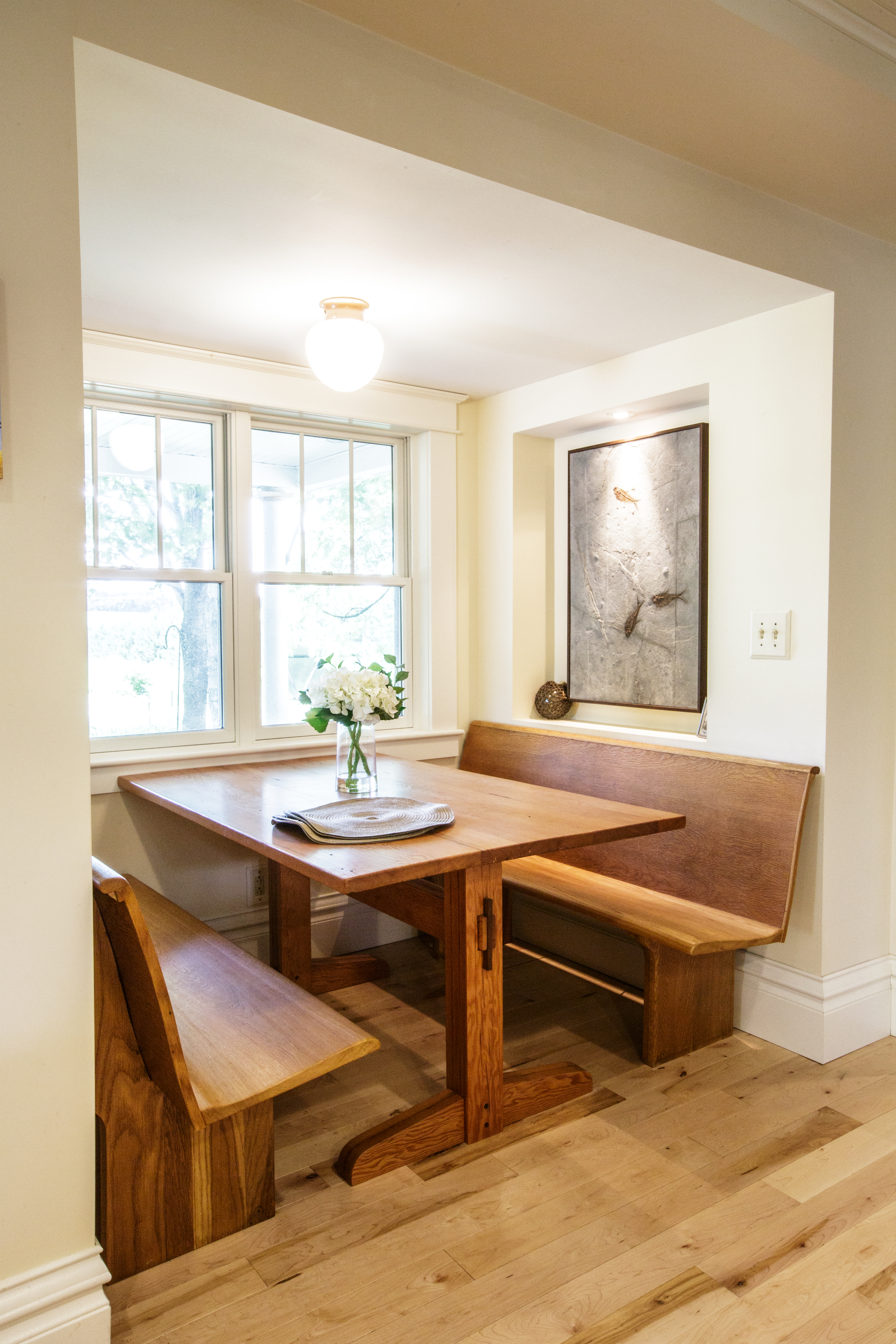 Baker's Paradise
The client had always wanted a well-equipped kitchen for painting, sculpting, baking, and decorating cakes. It also had to open up to views. Designers Elina Katsioula-Beall and Maria Alaverdyan created an all-white, airy kitchen with playful splashes of fuchsia and green and subtle references to the client's favorite "Alice in Wonderland" theme. 
The original kitchen is now a spacious eating area with an expanding glass table that often doubles as an extra cake-decorating station. The former butler's pantry is now a triangular kitchen with two peninsulas angling out from the oven/refrigerator wall. The prep-and-cook peninsula holds the cooktop and prep sink and faces folding French doors that orient the living space to the garden and views. The bake-and-decorate peninsula next to the ovens uses the front counter space as a place to mix dough and set baking pans, while the rear counter holds cake-decorating supplies. 
The back wall of the kitchen triangle houses the refrigerator, double ovens, warming drawer, and microwave, while a deeper counter features a roll-up backsplash that conceals a rollout commercial espresso maker. White cabinetry and countertops keep the look light. A fuchsia-colored baker's hutch with open shelving displays a bakeware collection, and a focal wall is lined with recycled oval fuchsia glass tile.
Designer: DeWitt Designer Kitchens, Pasadena, Calif.
Remodeler: RB Remodeling & Construction, Los Angeles
Photos: SukiMedencevic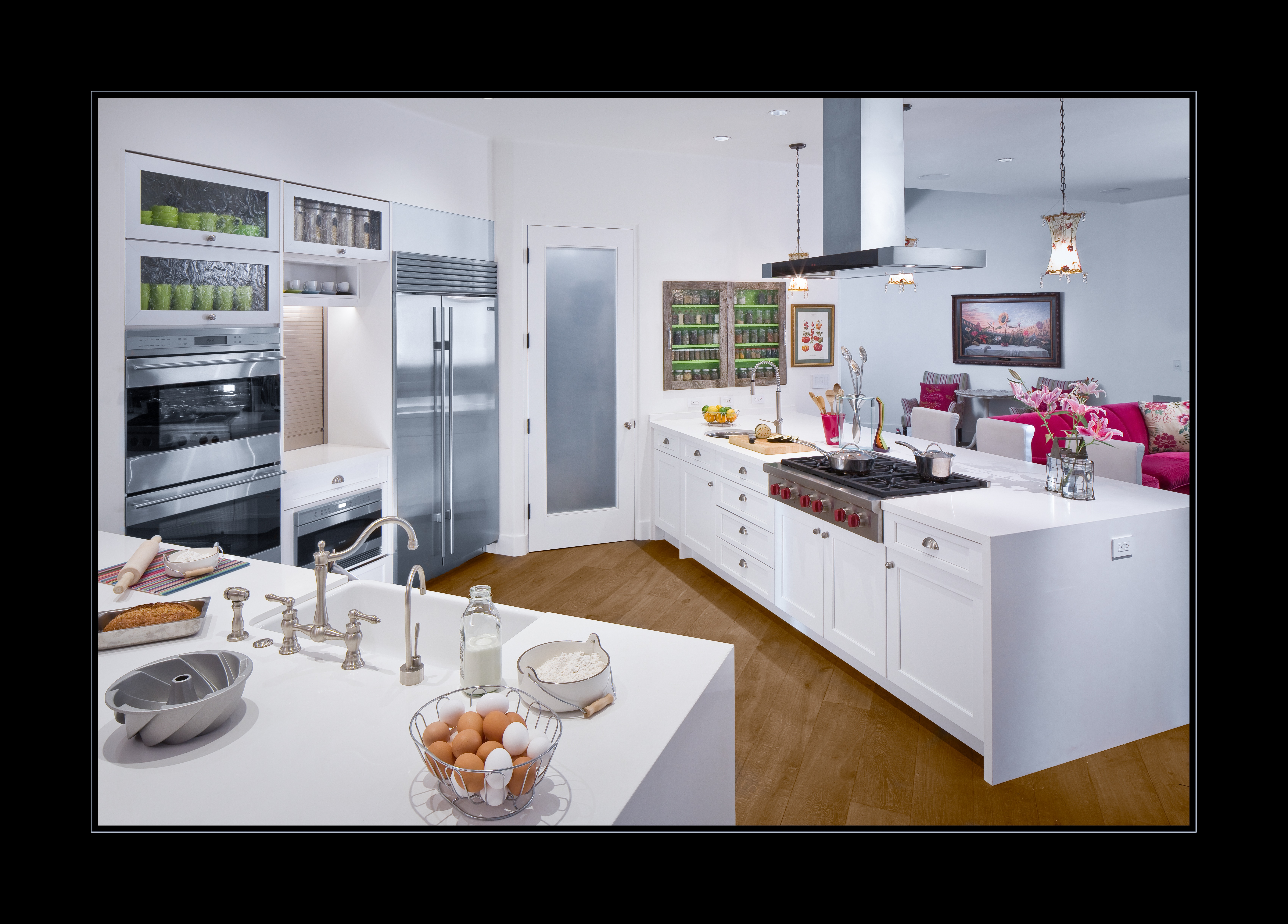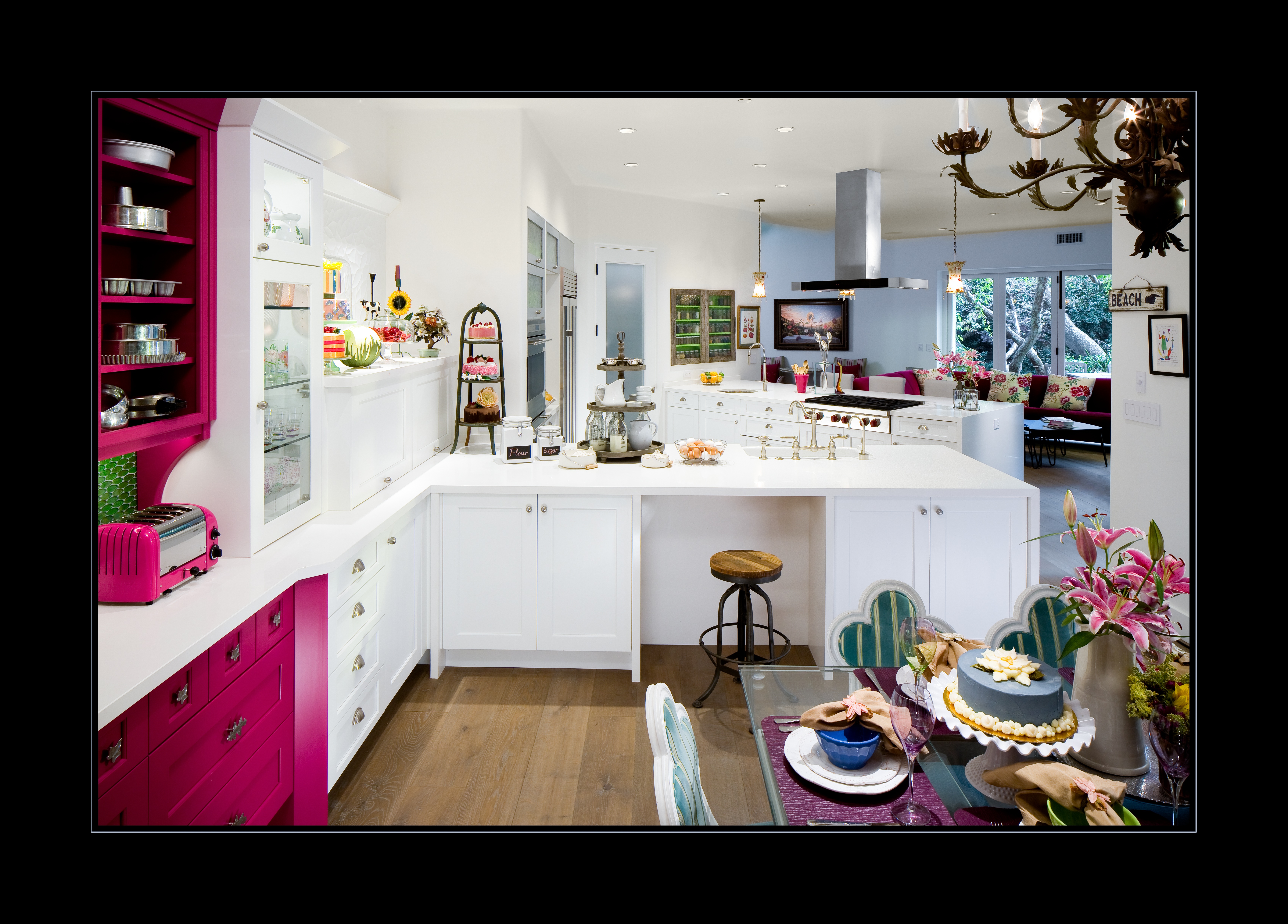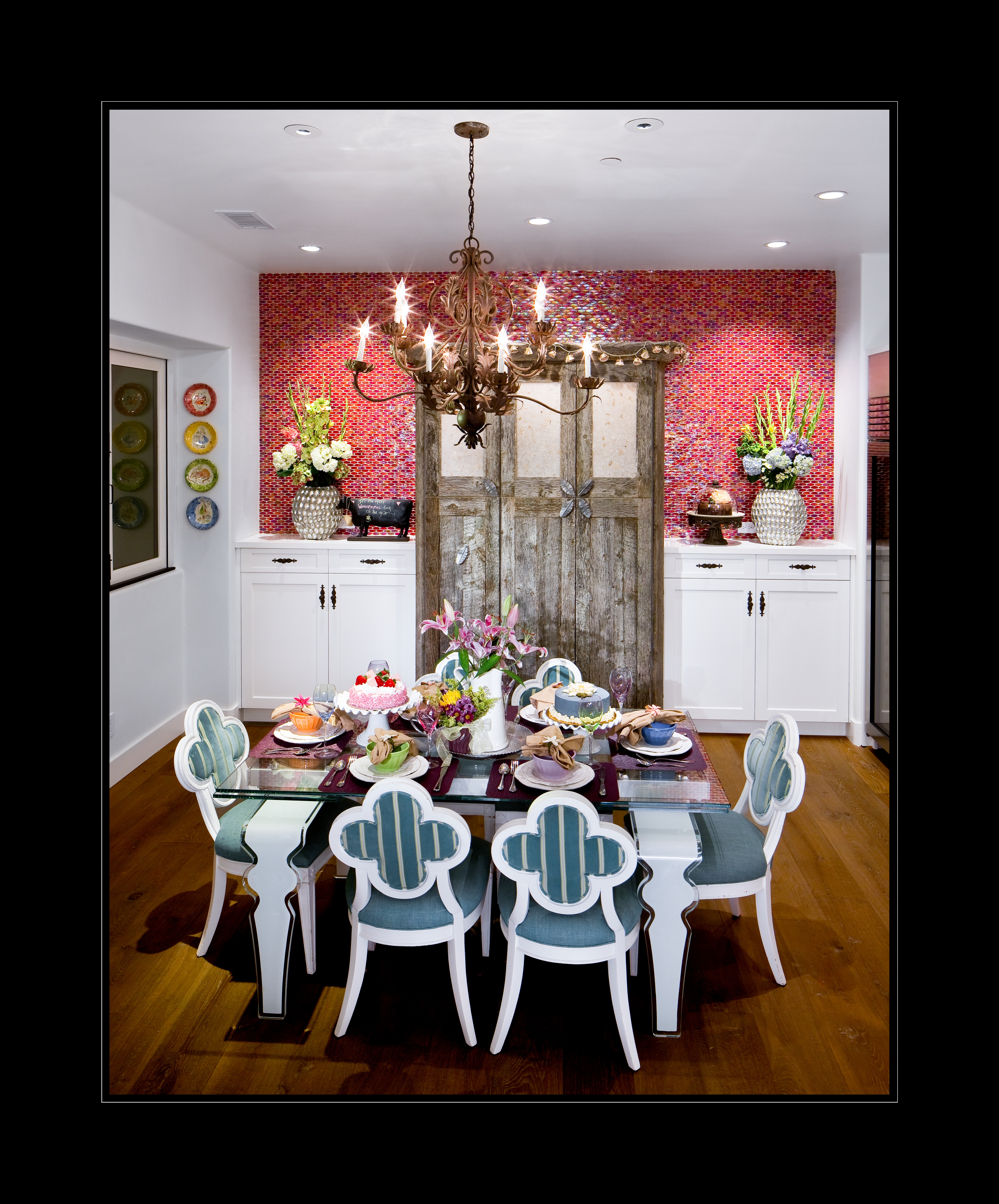 Taste of Morocco
To create a functional space conveying a love of cooking, art, and life in general, designer Brigitte Fabi drew inspiration from an item in the clients' private collection: a stunning Moroccan antique door acquired during a trip to Marrakesh. 
A custom, steel I-beam was fabricated and installed to allow for an open plan in the century-old home. Interior walls were eliminated to allow for better traffic flow and more natural light. 
The banquette features a sofa and eight seats with cushions used to emphasize the Moorish textures and furniture styling. The Moorish arch around the range area was created using a laser cutout of the shape and covered with a dimensional vein-cut marble; custom walnut borders the edges. 
Sheri Law Art Glass, of Homer Glen, Ill., created the custom confetti glass seen above the appliance garages, pantry door, and custom refrigerator/freezer panels.
Designer/remodeler: Drury Design Kitchen & Bath Studio, Glen Ellyn, Ill.
Photos: Eric Hausmar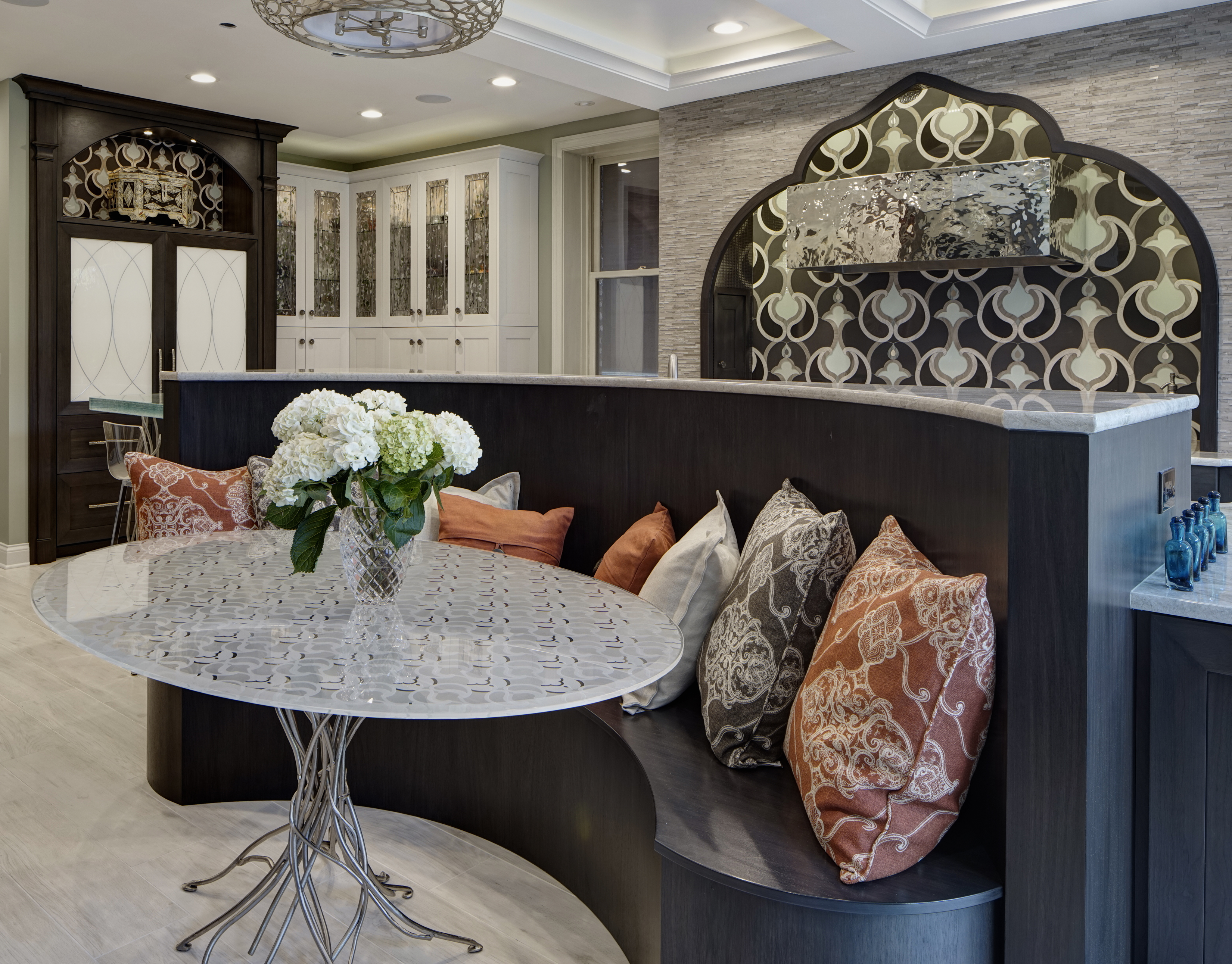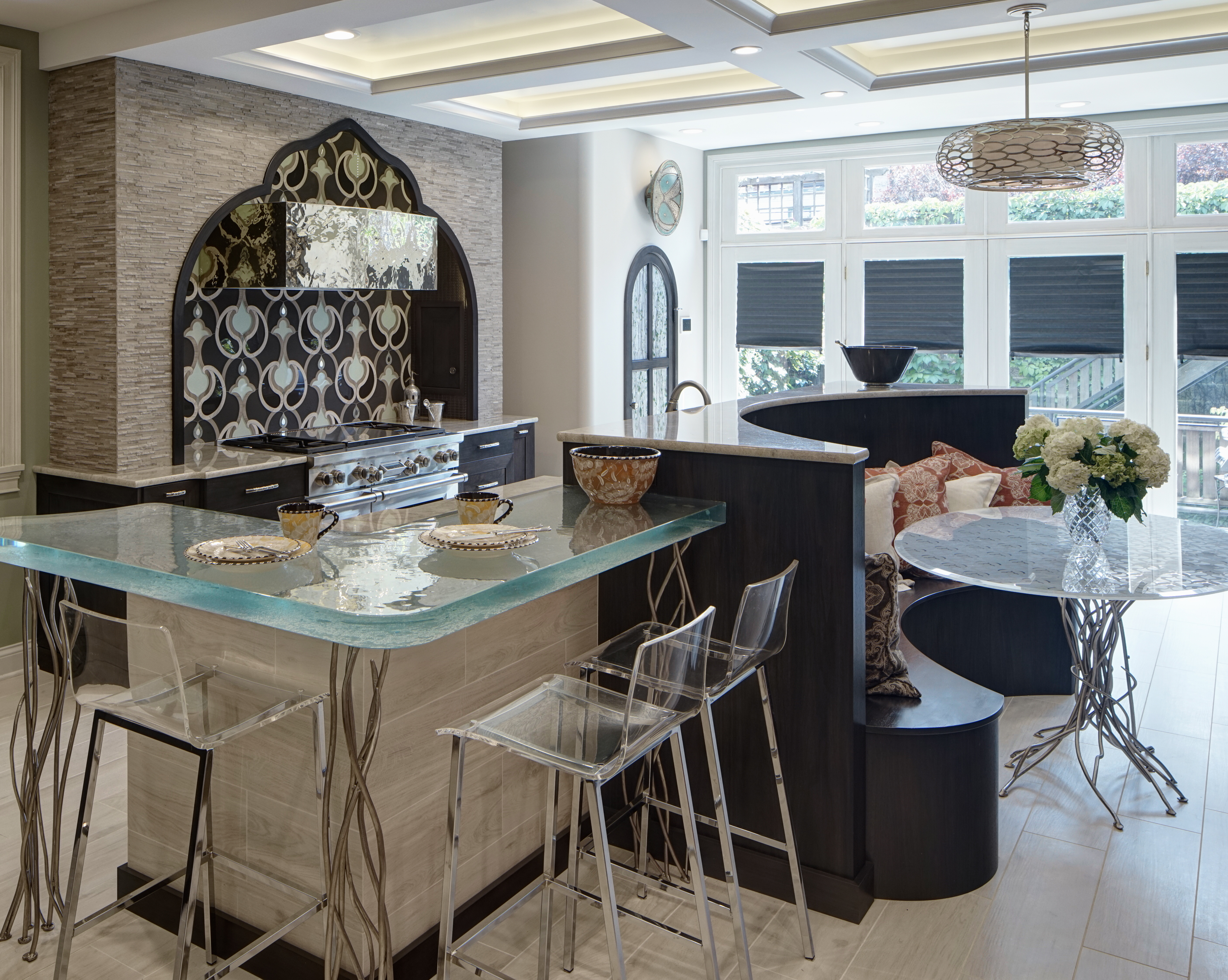 Let Us Entertain You
The informal, open plan of this kitchen and living room is ideally suited for entertaining large groups. Traffic circulates easily around the island and back out to the living room, and the adjacent wet bar/wine room offers a third option for socializing. Frankel Building Group designed the custom kitchen with neutral colors (ivory cabinets, white countertops, and gray subway tile) and subtle accents, such as the black wash on the cabinets. Double ovens, a 36-inch range, and a 48-inch refrigerator provide plenty of cooking and food-storage space for a big party or a family get-together.
Builder/designer: Frankel Building Group, Houston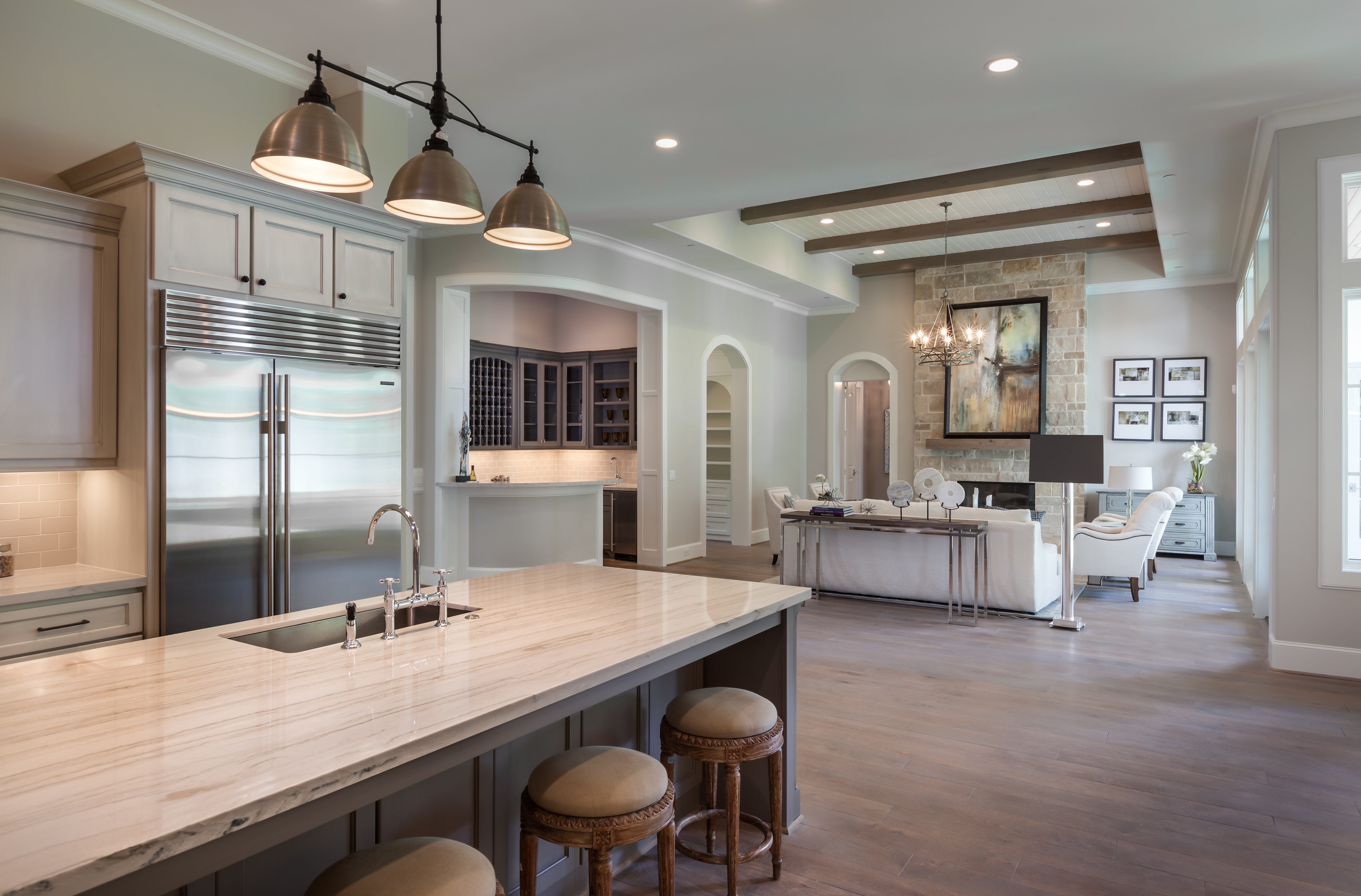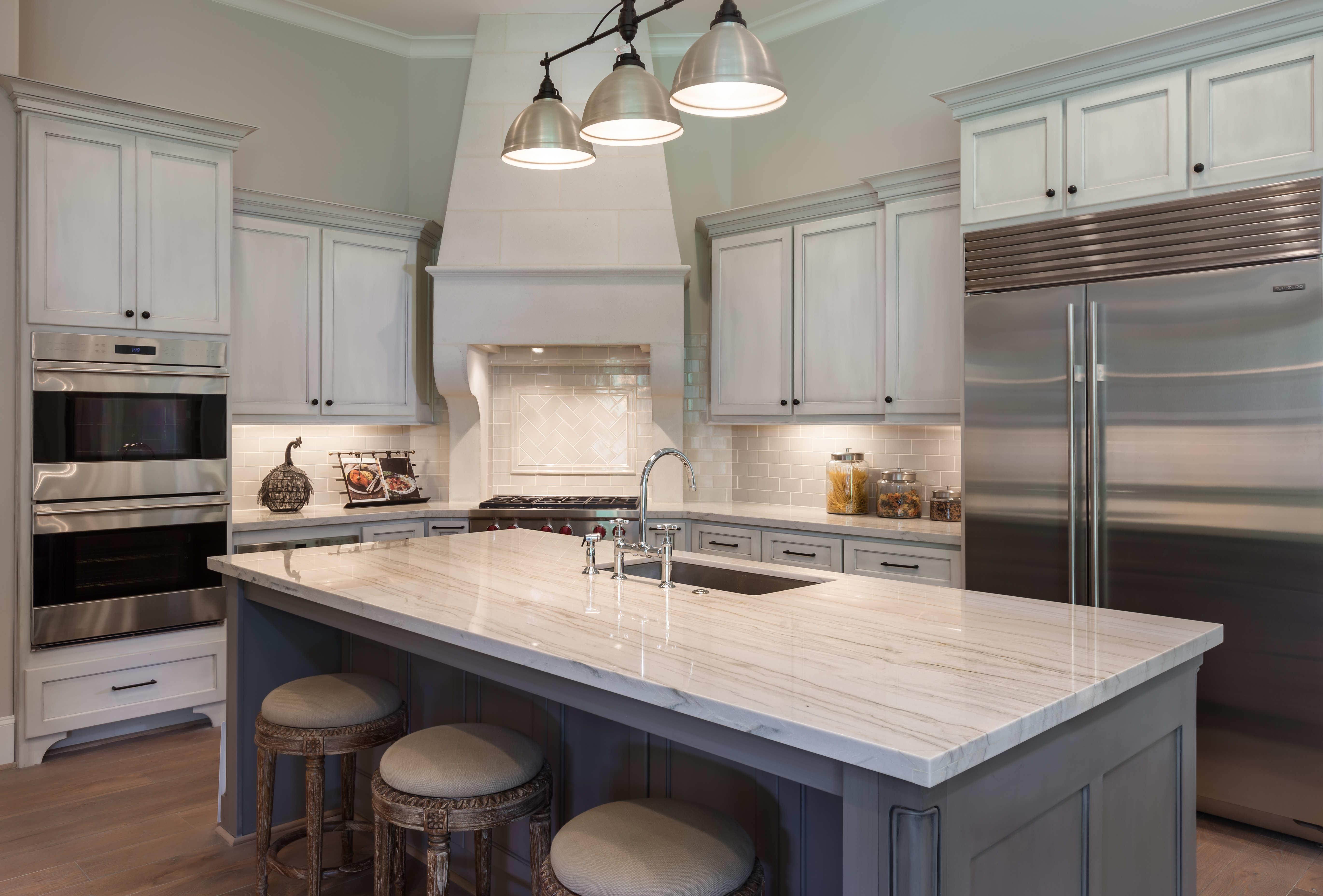 Dog (and People) Friendly
Renovated for a busy couple who rescue dogs, this modern, bright kitchen is also low maintenance. The space was designed for better flow, added storage, and great functionality. Unusual white frosted glass and aluminum-framed cabinets; creamy quartz countertops; sleek lighting; and a stainless steel, apron-front sink give the space a contemporary look. For quick meals, the clients use the table extending from one end of the island.  
Designer/remodeler: Rhode Island Kitchen & Bath, Warwick, R.I.
Photos: James Harrington/Imageten Photography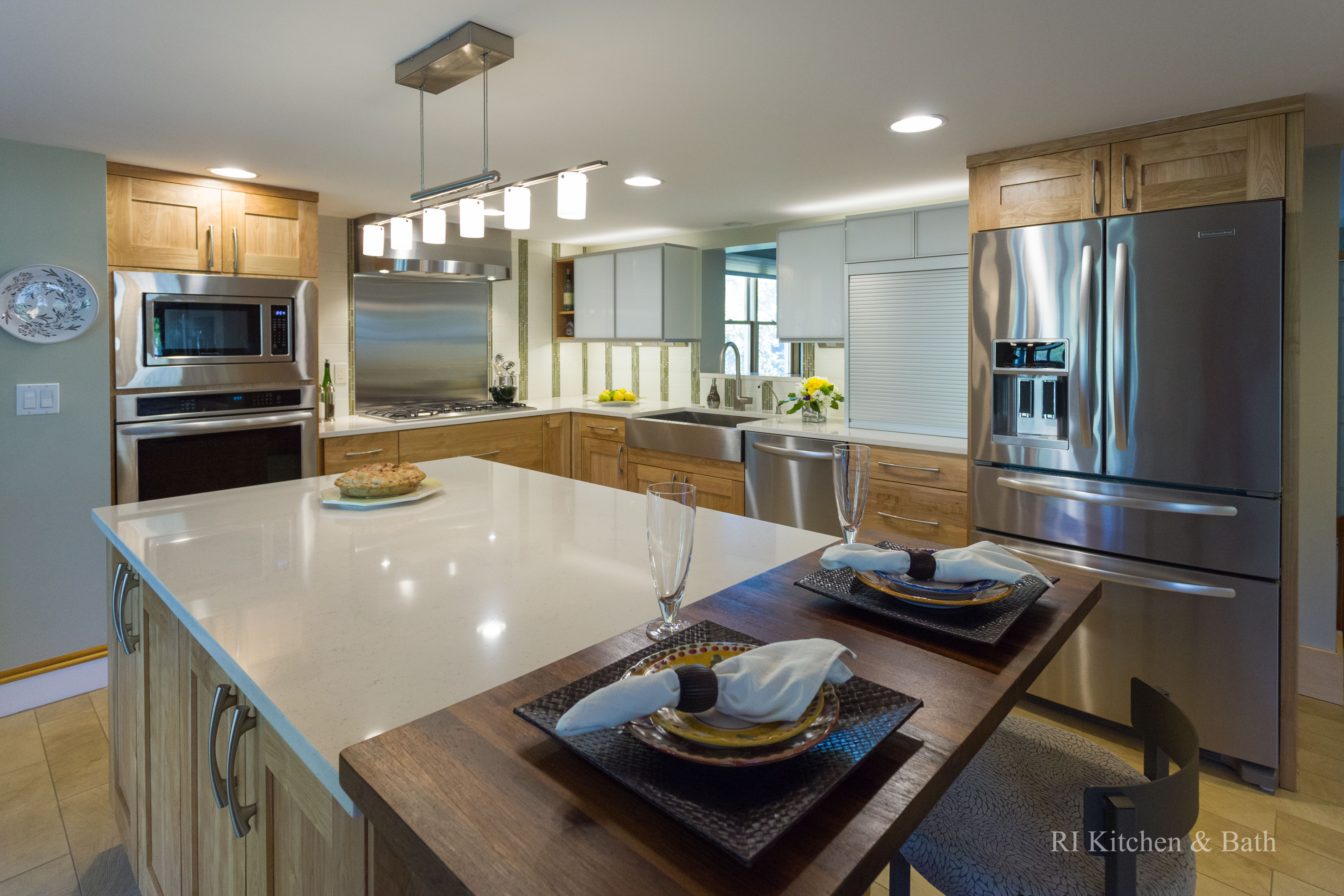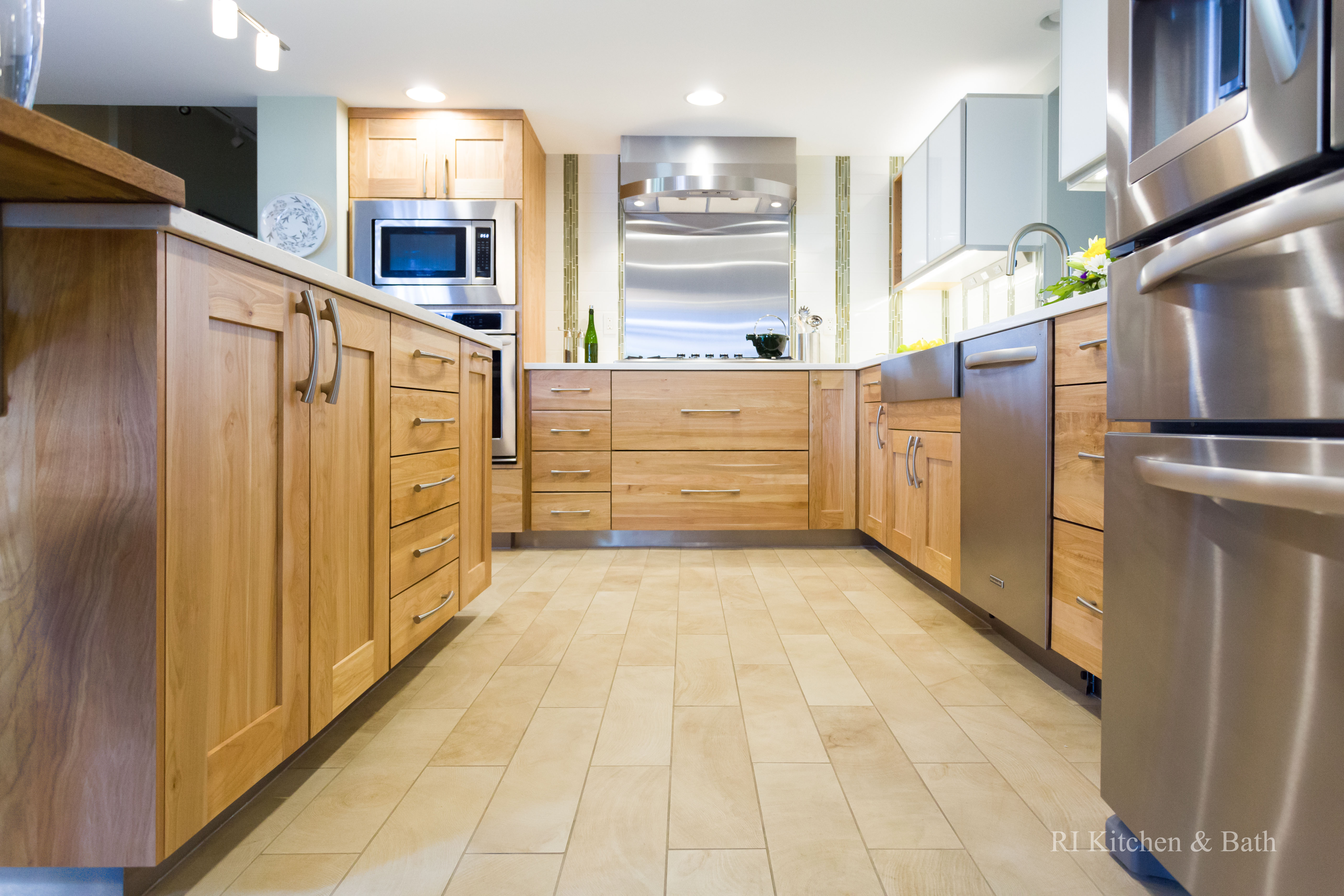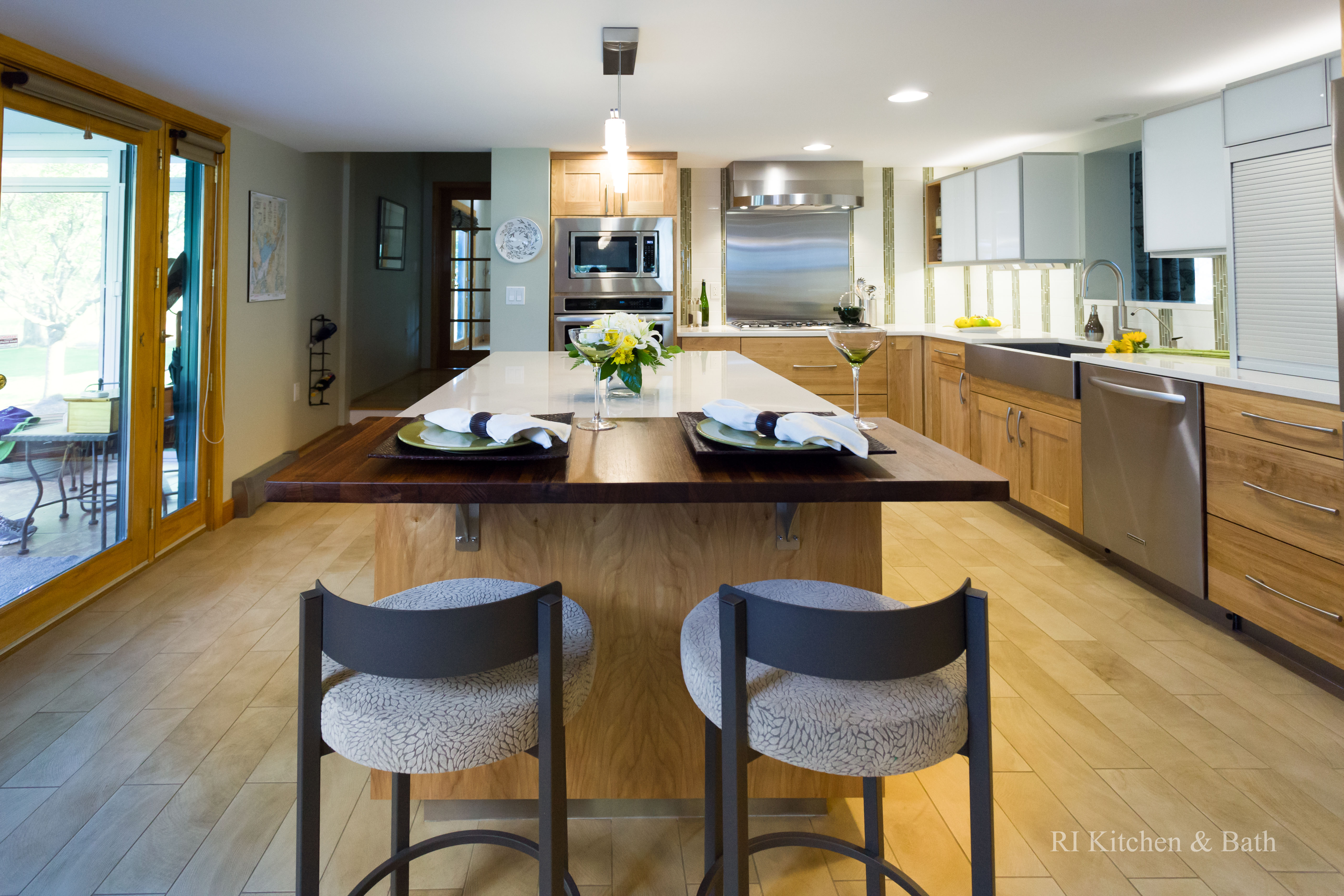 Store More
The concept behind this design was to create an open layout that offers ample storage. Designer Gail O'Rourke tapped into the corner cabinet area, maximizing its
potential by taking advantageof extra space toward the backthat is often wasted. The result:abundant storage.There are four drawers in this rear cabinet space and a pullout rack above it for bottles and jars, and in addition, drawers below the glass-fronted cabinet. All of these are useful for storing silverware, kitchen utensils, pots and pans, and large serving pieces.
Designer: White Wood Kitchens, Sandwich, Mass.
Remodeler: Campbell Construction, South Dennis, Mass.