The builders of these primary residences in Arizona, Connecticut, and Texas faced a similar challenge: Develop and maintain strong relationships with their clients. That's true of any custom job, but Chris Shea of Domus Constructors, Norwalk, Conn., can't emphasize that mission enough.
"I think it was difficult, as it is for every client, to go from [a] design on paper to making this big leap of faith," said Shea. "And to have it come off as well as it did is a testament to both the capabilities of [the builder and architect] as well as the relationship we were able to maintain with the clients."

Scott Frankel of Frankel Building Group, Houston, already knew his clients because they were once his neighbors. Frankel assessed that a new house would serve their needs much better than remodeling the old one. He also needed to maintain the goodwill of the homeowners living adjacent to the site, as they would be affected by construction noise and dirt.

Often builders have to deal with community design guidelines, fussy building departments, and conservation agencies. For example, builder Dave Reese and architect Scott Giesen navigated through such requirements as limited landscape lighting, low roof pitches, and darker exterior paint colors. Shea and architect Howard Lathrop had to develop a site with wetlands sitting on the border between two Connecticut towns without disturbing the existing border marker. They also had to stay on top of filtration, erosion, and sedimentation control.
Style that defies description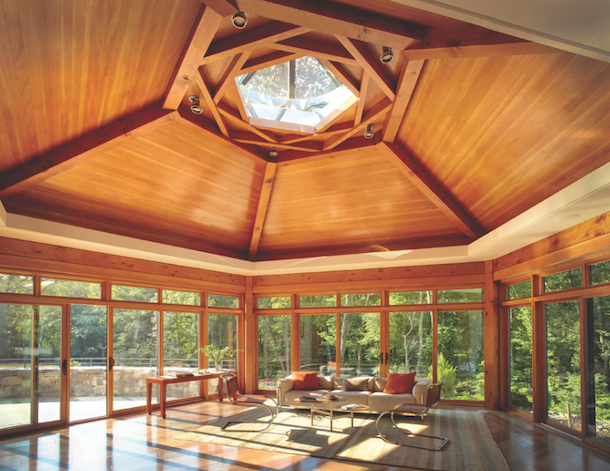 The sunroom was originally going to be a screened porch. The five-sided room has a stunning view and a high-pitched wood ceiling with exposed beams.
Shea and Lathrop's 8,000-square-foot custom home hugs a hilly site on a former estate.  The three-acre lot straddles the borderline between Norwalk and Westport, Conn., and has a 20-foot slope, wooded areas, and a meadow, plus the aforementioned wetlands.

"It took a lot of going back and forth with conservation, primarily conservation in Westport," says Lathrop. "We had to accommodate runoff in water gardens, most of which were already on the site."
The entrance and main living areas (living room, kitchen, sunroom and library) are on what is essentially the second floor, says Lathrop: "You're on a mid-level that's 10 feet above the lowest part of the site." The clients can drive into their garage at this level and walk directly into the mudroom and kitchen. Bedrooms are on the upper level. There's also a basement that will eventually be finished as office and entertainment space.
 
By using the existing grade, Lathrop was able to position the main living areas facing south. "We developed a passive-solar scheme with full-height glass that runs around the south façade and to the west," he says. Deep roof overhangs shield the home from direct summer sun and take advantage of solar gain in the winter.
 
The client told Lathrop that he wanted "as close to net zero as he could get short of actually providing batteries. He realized that the payback [would be] very fast."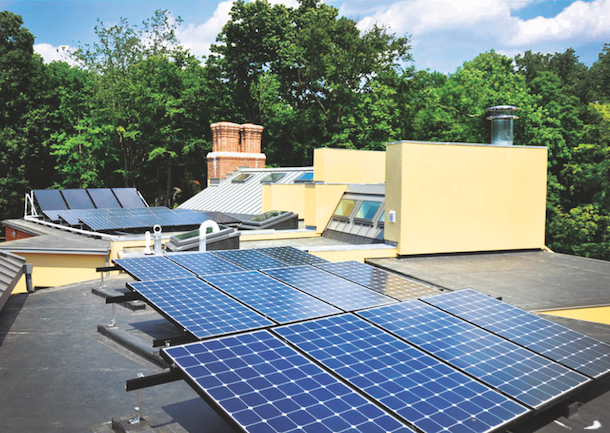 The metal roof features an array of 10-kilowatt solar panels. Excess hot water generated by solar energy is dumped into the geothermal system, pool, and spa. A propane system was added for backup.
The HERS 25 rating is no accident. Solar thermal and PV panels; triple-pane windows, open- and closed-cell foam insulation; structural insulated roof panels; and a geothermal heating and cooling system make the home extraordinarily green for its size.
 
Materials found on the site were reclaimed and recycled wherever possible. The dining-room table is made from the wood of a cherry tree felled on the property. Old stone walls were dismantled and reused on the exterior and retaining walls.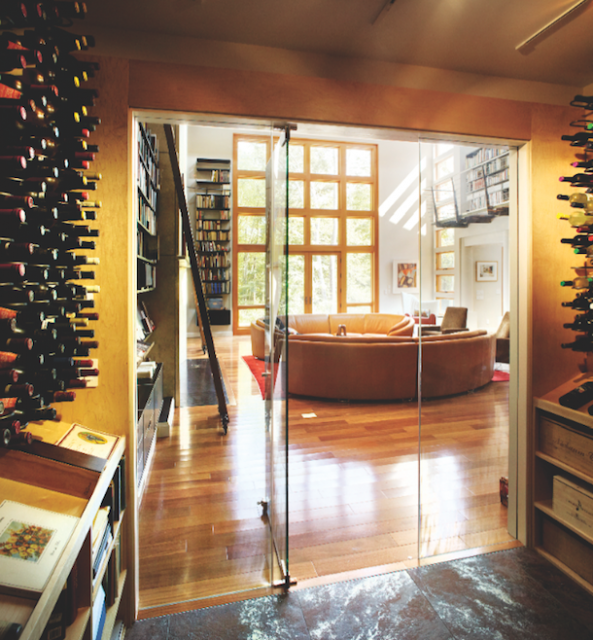 Creature comforts abound. The master bathroom has a sauna and a yoga studio with a kitchenette. The wine room has a "secret" passageway to the cigar room, which in turn accesses the master bedroom via a circular staircase.
The two-story library, which shares space with the dining room, was inspired by the reading room in New York City's Morgan Library, Lathrop said. While not quite in the classical style of the Morgan, it's impressive with a stone fireplace and catwalk. "We projected some steel angles off the floor joists, put [an industrial aluminum] grating on top and did a metal handrail," he says.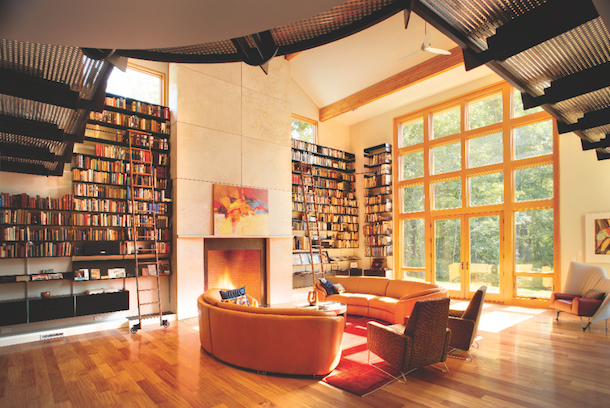 Jon Pompea of Creative Metal Fab, Stamford, Conn., created the superstructure for the library catwalk. The walkway surface is an aluminum grating that filters sunlight, creating shadows on the walls.
The home was named Best Contemporary Custom Home in the 2012 Home Building Industry (HOBI) Awards, a statewide design competition. But Lathrop prefers to avoid stylistic labels. Early in the design process, he and the clients envisioned an Italian hill town. Now he says it resembles "something you'd see in the Colorado Rockies, partly because the shape, the form, and to some extent, the materials were all used to provide as energy-efficient a house as we could."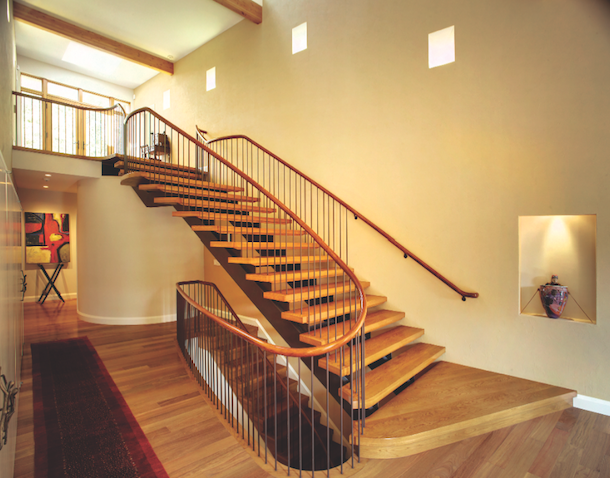 The staircase in the entry hall makes a grand statement with its curved handrail. "It creates a certain false perspective," says architect Howard Lathrop. "The walls tilt in, and as the stair meanders up through the space, the ceiling slopes. That's something the clients wanted."
[PAGEBREAK]
Back at the hacienda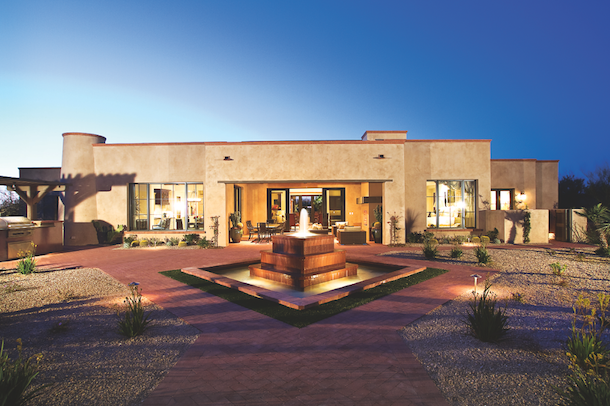 Outdoor living space at the rear of the home incorporates a built-in barbecue grill and a brick fountain that masks traffic noise from a nearby street. A private, walled garden off the master suite is visible at far right. Photos: Hires Media
Whisper Rock Estates in Scottsdale, Ariz., has a lot to offer affluent homeowners, including two golf courses, a well-appointed recreation center, and spectacular desert and mountain views. The community design guidelines mandate traditional American Southwest architecture—typically rambling, low-lying buildings with courtyards and covered loggias. 
Custom-home market trends: Phoenix
 

• Less square footage. "Our clients want smaller homes nowadays," says Dave Reese of Platinum Homes, Scottsdale, Ariz. "Instead of 6,000 to 7,000 square feet, they're more in the 4,500-square-foot range."

• No private swimming pools. "Our swimming season is only a couple of months longer than it would be, say, in the Midwest. To heat a pool in the wintertime when people are having guests is not economically viable," Reese says. Besides, if the community recreation center has a pool, there's really no need for the client to build one.

• Hardwood floors. The home featured in this article has more wood flooring than any built by Platinum Homes to date. "And we're doing it more and more," says Reese.

• Lighter interior finishes. Phoenix architect Scott Giesen notes that clients are leaning toward lighter, brighter interiors. Darker floors and furnishings are on the way out.

• Brick as a trim element. Bucking the local trend, Platinum Homes used a substantial amount of brick to accent the parapets, the low decorative wall framing the front entry, the fountain, and the fireplaces.

The Whisper Rock home featured here is Spanish Hacienda style, characterized by a flat roof and "a fresher style that's lighter and brighter," says Dave Reese, principal of Platinum Homes, Scottsdale. It's about 4,600 square feet—smaller than the homes Platinum has been building lately (see sidebar). The site is approximately 2-1/2 acres and has a large grove of trees on one side. Architect Scott Giesen, principal of Giesen Design Studio, Phoenix, designed the L-shaped house to capture views of Lone Mountain. 

"[The clients] wanted a great room rather than a formal living room," says Reese. "There's also a hearth room behind the kitchen that can be set up for a breakfast nook or a variety of other uses." 

The Whisper Rock golf courses were a big part of the attraction for these homeowners, who tend to entertain small groups rather than throw large parties. Due to Arizona's relatively short swimming season, Reese discourages clients from building private pools, but he does maximize outdoor living opportunities. This home has a spacious, covered outdoor room, elegant brick fountain, and built-in barbecue at the rear as well as a patio in the front. Both are equipped with fireplaces.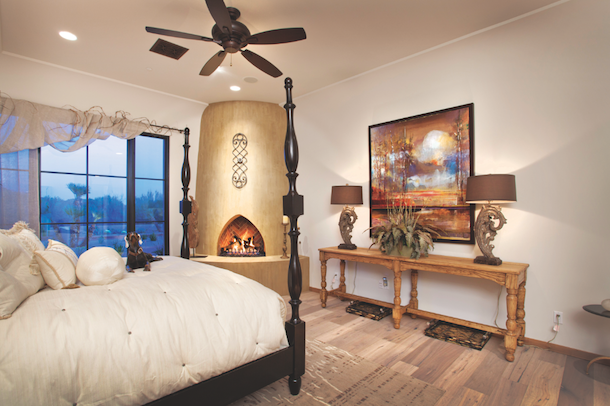 In keeping with the hacienda flavor, various fireplace styles are featured including this beehive in the master bedroom.
Other features include an outdoor shower off the master bedroom, a second master suite, a three-car garage, a formal dining room, and a flex room adjacent to the master suite. The powder room next door has a shower so it can function as a fourth bedroom as well as a game room or office, Reese says.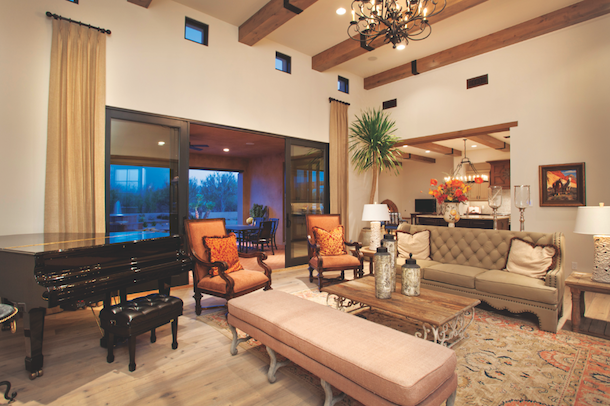 The great room is oriented to a large, covered outdoor space and captures views of Lone Mountain and the southern sky. High transom windows let in sunlight without overheating the house.
The light color of the hardwood floors is suggestive of California coastal design, Giesen says. But the fireplaces are fit for a hacienda: a beehive-style fireplace in the master bedroom, a round Southwestern style in the hearth room, and a wide-open shepherd's fireplace in the great room.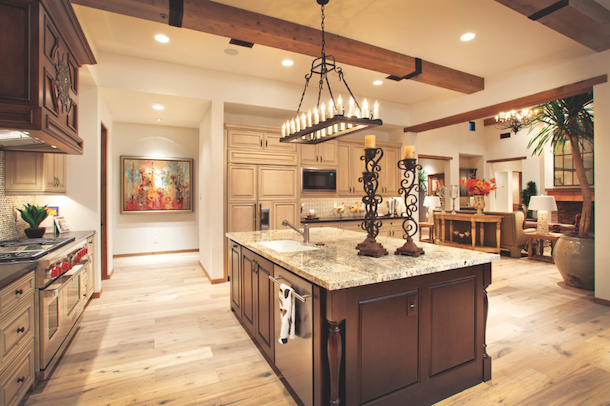 Light-colored wood floors contrast with a darker cabinet finish in the kitchen. The flooring is French white oak with a taupe wash, "which turns out to be the same color as our dust, so it's really forgiving," says Reese.
[PAGEBREAK]
Making a smooth transition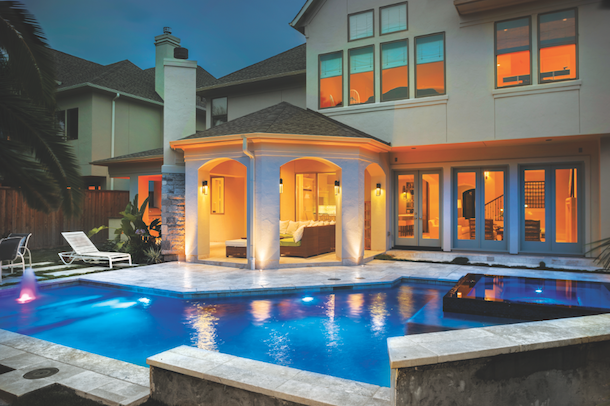 The covered veranda overlooks the pool and is the perfect place for barbecues. On cool nights, family members and guests can curl up in front of the veranda's fireplace. Photos courtesy of Frankel Building Group
Frankel Building Group has built homes in some of Houston's most desirable neighborhoods. One of the company's latest projects is a 4,521-square-foot home for a couple whose children are on their way out of the nest. 
 
The clients, who once lived across the street from Scott Frankel, approached him with the idea of remodeling, but he realized they really needed a new house. "The floor plan [of the old house] was very chopped up, and they wanted something that was very light and bright and open," Frankel says. He took into consideration that they were "becoming empty nesters—they had two kids in [college] and another one going."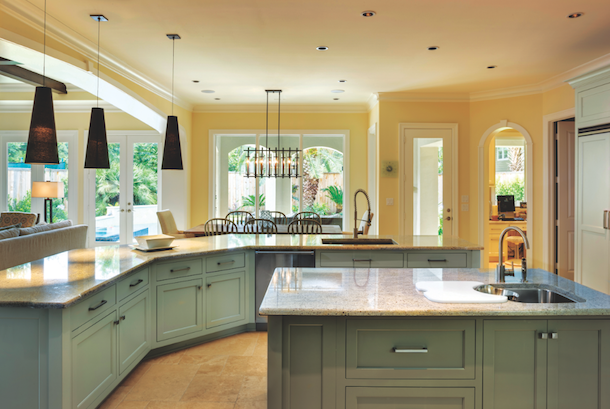 The kitchen faces a veranda at the rear of the home and features an island with a prep sink and an angled counter for food preparation and serving. The arched doorway on the right leads to a home office.
Frankel helped the couple design a new home to fit a 65-foot-by-135-foot infill lot. "Her style in furnishings, accessories, and finishes is transitional," he says. Traditional architecture is a little out right now in Houston. Contemporary is popular, but it can be too extreme for some clients. Transitional is a middle ground that fits this family perfectly.

To facilitate entertaining, the kitchen, breakfast room, and great room open to a large veranda and summer kitchen. Off the kitchen is a media room where the family can hang out and watch TV. The home has a formal dining room off the foyer as well as a study that is the husband's sanctuary, complete with hidden closets. 

Like nearly all of Frankel's projects, the home is LEED certified. "The clients didn't want a lot of maintenance, and when we started explaining what sustainable means, it made total sense to them."   

For Frankel, building green means using open-cell polyurethane insulation and other materials that can stand up to Houston's heat and humidity. "We use two-coat lathe-and-plaster stucco on 95 percent of our houses," he says. "If it's done right, it [performs] very well in this climate." Instead of exposed wood on the exterior, the company uses fiber-cement siding and trim and concrete masonry soffits. Hybrid, semi-tankless water heaters and variable-speed, 16 SEER HVAC units are always on the equipment list.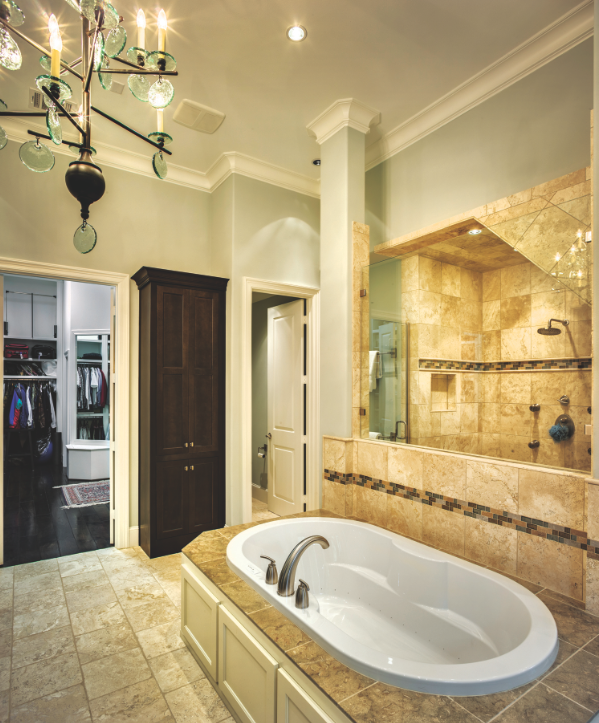 In the clients' previous home, the master bathroom was just a bathroom. This one is more like a spa with its oversized shower and soaking tub and connects to an enormous walk-in closet.
The builder took great pains to maintain friendly relations with the neighbors adjacent to and behind a new construction site. "One of the things we do is clean our jobs by hand twice a week, [in addition to having] the trades clean up after themselves," Frankel says. They also protected existing trees and monitored their hydration. 

Rodney Stevens, Frankel's in-house custom-home designer, is adept at making new homes fit seamlessly in established neighborhoods. To add both timelessness and visual interest to this home's front elevation, Stevens used stone accents and archways, a second-floor balcony, and dormer windows over the garage.