Some construction companies call themselves design/build, but their body of work can only charitably be described as adequate. Their emphasis is clearly on "build" with a faint nod to design. Caleb Johnson Architects + Builders (CJAB) is a different design/build firm.
Based in Biddeford, Maine, CJAB stresses design as much as it does construction, producing custom homes that hew to a regional vernacular. As the company tells it, the firm designs and builds traditional houses with modern amenities that work for the way their clients live.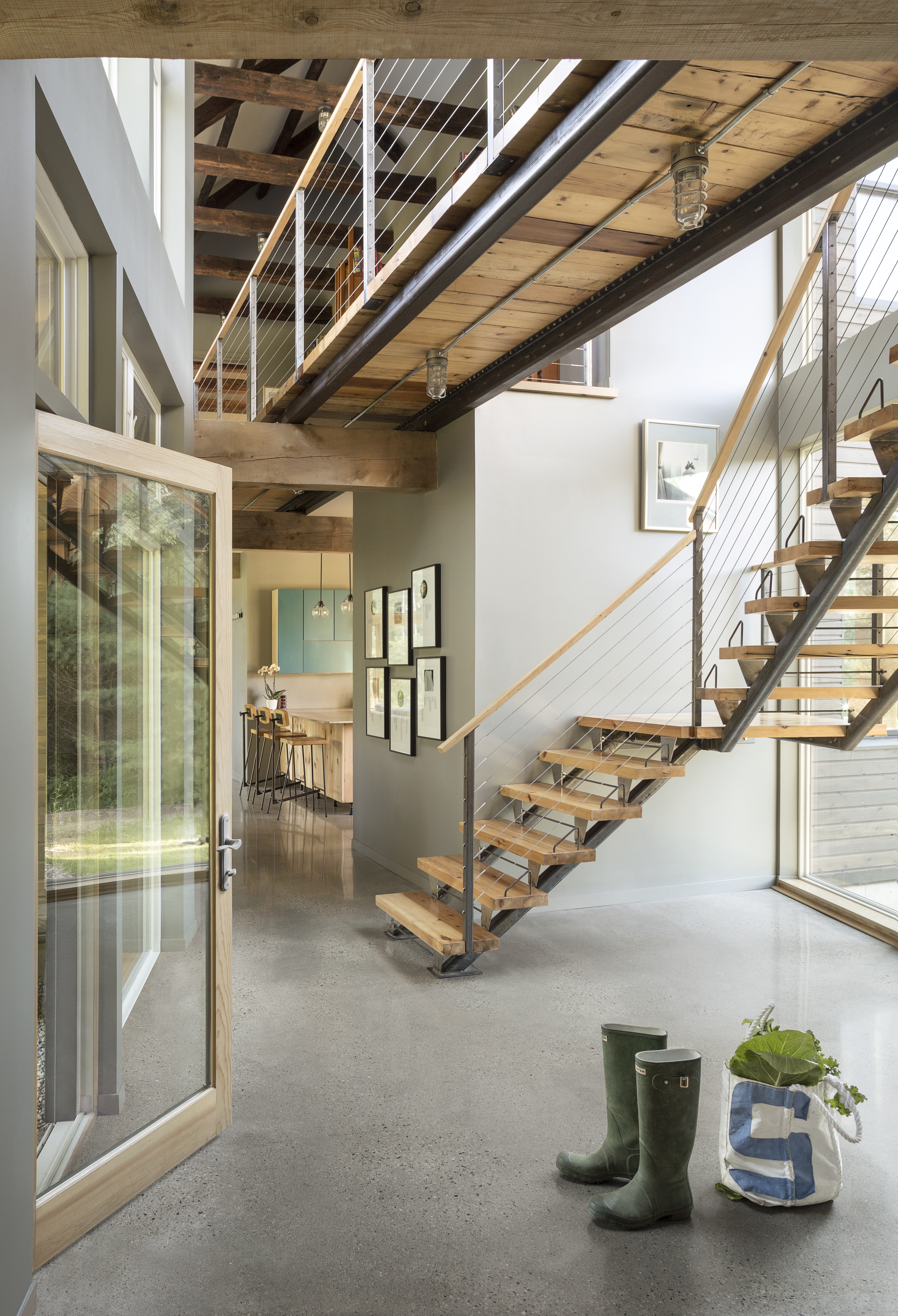 The Ben's Barn house by Caleb Johnson Architects + Builders incorporates salvaged materials.

CJAB is headed by Caleb Johnson, an architect with a history in construction that dates from a "childhood of making stuff" up through college, when he spent time on framing crews. Building his designs was always Johnson's dream. "From a very early point in my career, I desired to be someone who develops projects from scratch as well as builds them, so I can have influence—if not control—over the entire project," he says.
Construction is integral to the firm, but design is its leading purpose. "We are a build firm that's small, led by a residential architecture firm that, in our region, is large," Johnson explains. "We have 10 architects on staff—and that's a lot."
The company is busy. At any given time, CJAB is running 12 to 20 residential designs and its construction wing has all the work it can handle. "Our practice is constantly trying to keep up with producing our own work," the architect says. "So we're not out there soliciting work from other architects. But occasionally we'll build someone else's design."
The Solar Barn project features a super-insulated shell and uses local materials.
Perhaps because of the firm's location on the Maine coast, custom vacation homes are its specialty. "That's what we're known for," Johnson says. "It's our bread and butter. We do about two to four $800,000-plus vacation homes a year, and that really is the heart of our operation." The rest of CJAB's projects range from kitchen jobs to $500,000 renovations or starter homes.
Part of the firm's success stems from knowing its custom niche and sticking to its principles of good design and sound construction practices, such as proper site orientation, adequate overhangs, and appropriate materials selection. The firm builds houses that range from $300 to $500 per square foot and often designs and fabricates many of a project's details, such as forged door handles.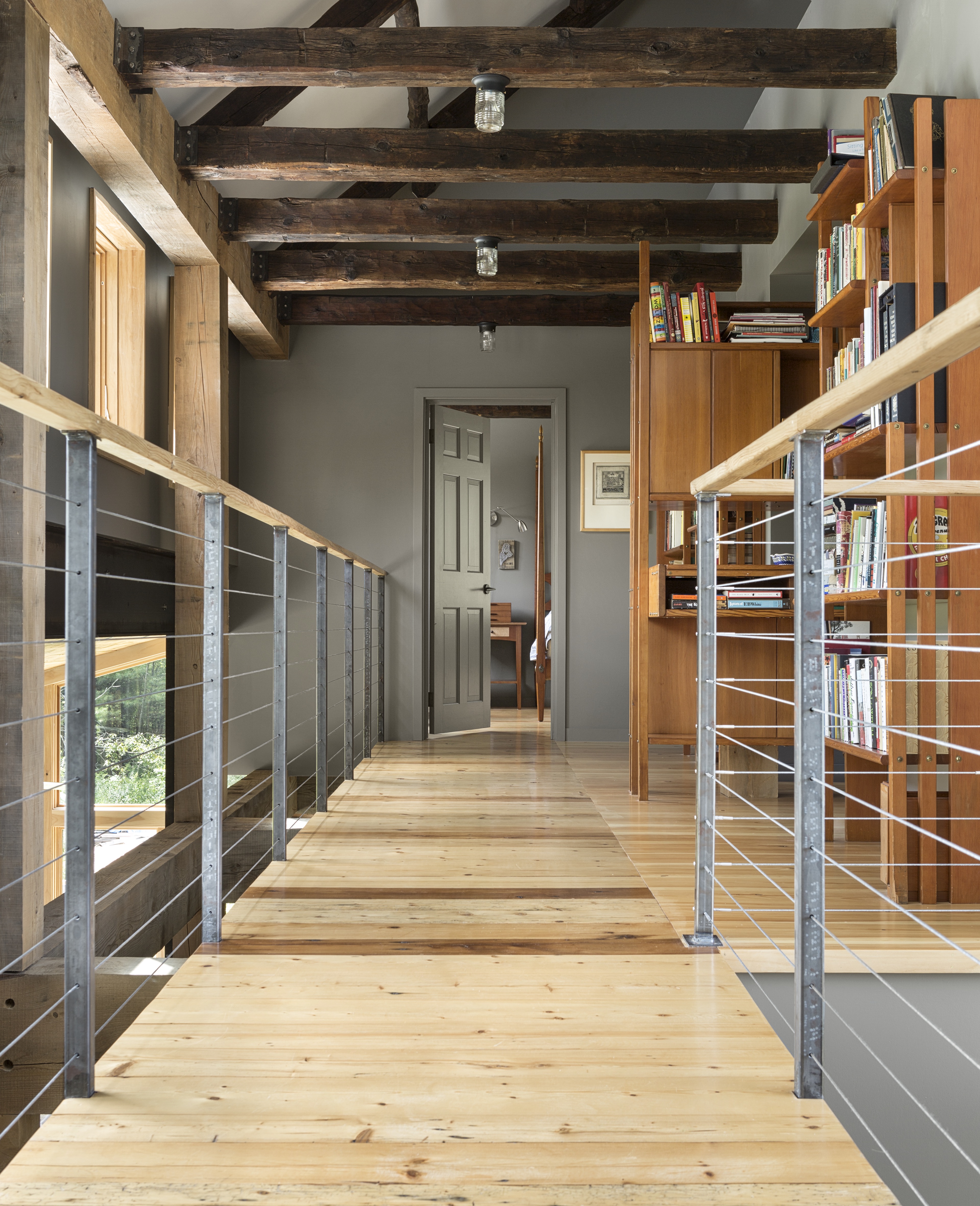 The catwalk in the Ben's Barn project uses the same cable system as the staircase .
CJAB also focuses on working with natural materials. "One of the things I feel most strongly about is material selection," Johnson says. "It drives my designs, drives the way I think about buildings, and it affects how I perceive other buildings. I use no plastic, no vinyl, and no fiber cement. We are partial to stone, wood, steel, glass, and concrete. I like for materials to read as close to the natural as possible, so I avoid paint as much as I can."
Contrary to an industry trend, CJAB sees no need to brand itself as a green builder nor to specifically bring it up with clients—unless they want to talk about net zero energy. "Being a green builder is not a long-term branding move any more than advertising that I build structurally compliant homes," he says. "Obviously, I build structurally compliant homes and, obviously, I build tight, energy-efficient homes that are solar-ready and sustainable. It's baked into the DNA of the firm."
Despite CJAB's success, the company is experiencing the same challenge as many builders across the country: a labor shortage. Though the firm strives to build everything it designs, it occasionally gets too busy and has to farm out the work to other qualified builders. As a result, it's constantly looking for talented carpenters to join its team or good subcontractors to supplement its labor force. "We find that to be one of our biggest challenges," Johnson admits.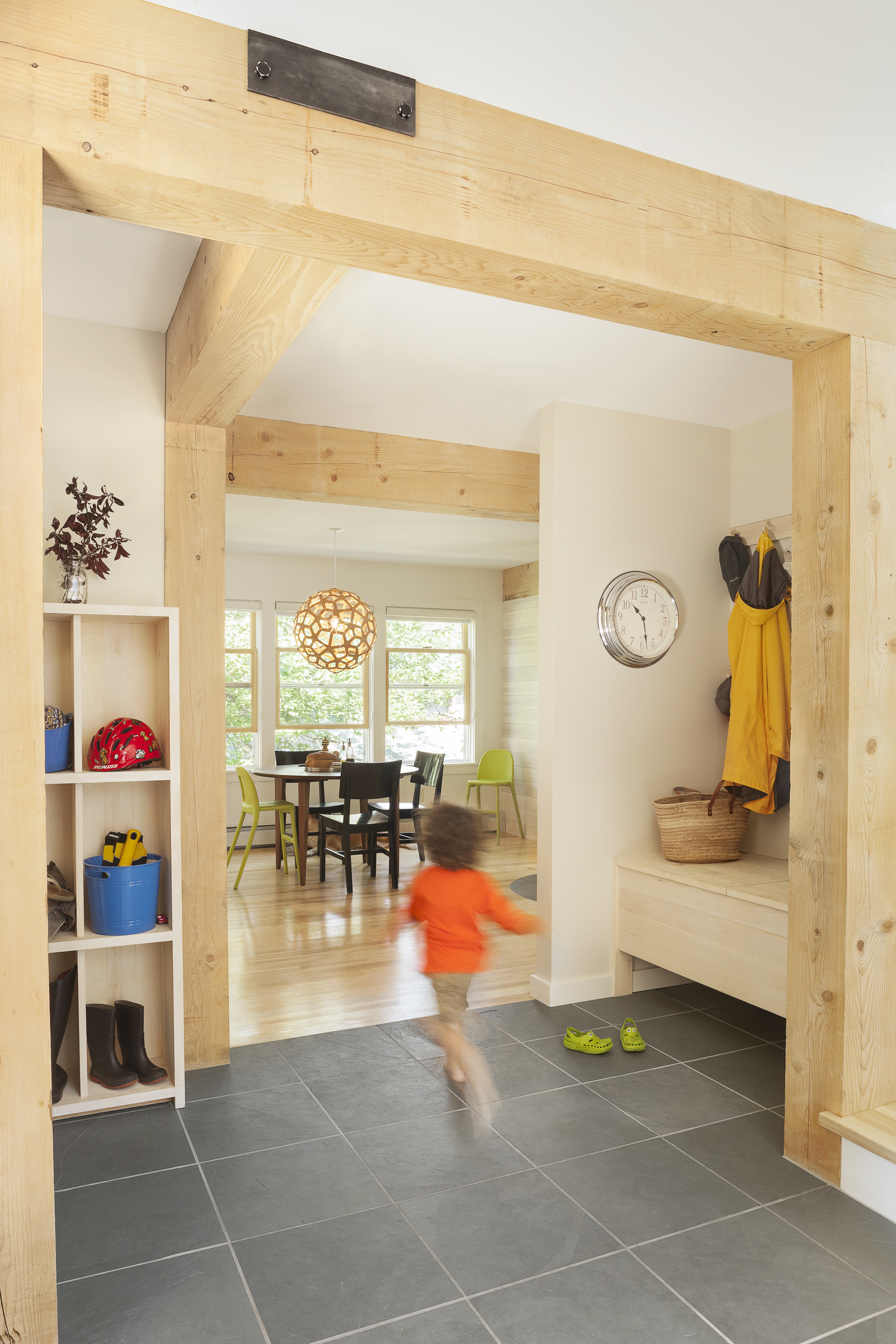 CJAB acted as both architect and general contractor for this affordable renovation project.
The firm is solving the issue by forging better relationships with subs. Johnson says that the company will not be able to succeed or grow without them. "Not only would we be [experiencing] a labor shortage," he says, "we would be unable to get our projects done."
CJAB also is looking at local vocational schools to find qualified candidates who the firm can train from teenagers right up to an apprentice program—or, if things work out with the trainee, to a carpenter position on staff. For now, Johnson says, the company will use "fast and accurate" framing subcontractors to start projects and employ the best crews to finish them.

Asked what is the most important thing he has learned during his career and what drives the firm's success, Johnson says it's hiring the right people. "You can focus all you want on the quality of your product as a business owner, and you can get all of your systems right, but if you don't build a team of people who are galvanized around the same principles of the firm and the brand's promise, everything comes crashing down," Johnson says. "The most important job I have as the firm's leader is making the right decisions about hiring."