Custom builders who rebrand and reposition their companies can attract new customers and strengthen their reputations. Those who have taken on this time-consuming and expensive process can attest to the benefits.
Orlando, Fla., custom builder Bill Silliman had been doing subdivision work for three decades and felt it was time for a change. "As Orlando has grown through the years, new construction has spread pretty far out from the city," Silliman says, "and it's dominated by big production builders." 
He decided to shift his focus to mature, close-in neighborhoods such as Winter Park, College Park, Windermere, and Maitland, where he could tear down older homes and build new, smaller homes for doctors, lawyers, and other professionals who wish to live close to work and the city's amenities. 
Weiss Building & Development, in Geneva, Ill., wanted to leverage its reputation for cutting-edge, high-performance homes by renaming the company Evolutionary Home Builders and marketing that expertise. Founder Brandon Weiss admits that the process was exhausting—"It was a lot of long hours and late nights"—but that it has paid off in increased brand recognition. 
Having used the same logo for almost three decades, Allen Associates, in Santa Barbara, Calif., realized that a more sophisticated approach was necessary. Fine-tuning the company name, logo, website, advertising, and marketing materials gave the company a new, more unified identity. 
"Rebranding your company identity is very challenging," observes Allen Construction's marketing manager, Karen Feeney. "To rethink your image and change all that you are familiar with requires shifting gears and thinking outside the box." 
Evolution of a Revolutionary builder
Brandon Weiss started his Illinois custom-building company 10 years ago with the goal of producing healthier, more energy-efficient homes than his competitors.
"I went down the path that I guess most builders do, of naming the company after myself," he says. "But recently we recognized a need to reposition our brand in a way that completely reflects our full capabilities and services."
To convey the company's reputation for building exceptionally high-performance homes, many of which have earned Passive House certification, Weiss Building & Development became Evolutionary Home Builders (EHB). 
Jo Chicago, a Chicago-based marketing communications firm, collaborated with Weiss on the new logo and collateral and marketing materials. Chicago Tribune Media Group redesigned the website. 
EHB also opened a new retail space in downtown Geneva called The Evolutionary Home. The store invites homeowners and green-building enthusiasts to test new eco-friendly products and envision building a healthy home with the highest levels of energy efficiency, building science, and indoor air quality EHB has to offer. Builders, designers, and architects can also use the space to source building materials from foundation to finishes to furnishings—materials that have been vetted by EHB for sustainability.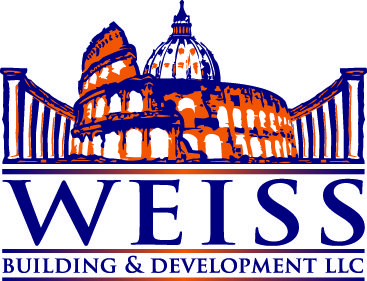 The old Weiss Building & Development logo (above) gave the impressioin of antiquated construction. the new logo for Evolutionary Home Builders (below) conveys the concept of advanced building science by showing the evolution of housing (EHB Illustration: Jo Chicago).

Weiss started developing his new strategy in late 2013. "It was a major time commitment," he says. Potential company names were put to the test in focus groups. 
It was tough to start a new brand after having accumulated 500 "likes" on the old company's Facebook page, Weiss says. But, he adds, since EHB was launched, "I think our Web presence has increased. We're getting a lot more people who are focused on projects we want to do. Our pipeline is definitely filling up." 
This past April, EHB launched Evolutionary Pro Homes, geared toward professional athletes looking for a high-performance home to parallel their high-performance lifestyle. It's an opportunity for Weiss to pair his past experience as a professional basketball player with his track record as a sustainable home builder. 
"The Evolutionary Pro Homes program promises an environment that promotes restoration, relaxation, and overall well-being to yield a higher-performing, healthier body," Weiss says. Features include custom lighting programmed to human circadian rhythms; toxin-free building materials; a holistic, whole-house air-quality delivery system; a comfort- and health-optimized water-delivery system; and reduced electromagnetic frequency programming. Athletes are guaranteed their money back if the home's environment doesn't improve certain aspects of performance and health. 
Strategy for a new market focus
Orlando builder Bill Silliman captured a new generation of custom-home buyers by shifting his market emphasis from the suburbs to the city.
"Baby boomers want to come back to the urban core, and there's no new product there," Silliman says. "Many of the homes are 40 or 50 years old and functionally obsolete for today's buyers. So we're buying properties in older neighborhoods, tearing them down, and building new homes for people who want to downsize to a 2,800-to-3,400-square-foot house loaded with luxury features."
Silliman is tearing down and rebuilding at an unprecedented rate in Orlando. The company is well capitalized: Its acquisition team has spent approximately $10 million purchasing select properties in targeted infill areas. Silliman currently has 15 homes under construction and reported about $5 million in sales. 
Along with the market repositioning, Silliman unveiled a new website to formally introduce Silliman CitySide, which includes the Silliman Dream Planner. Using the Dream Planner, potential clients select a floor plan and neighborhood location and calculate their monthly payment based on a down payment of their choosing. Silliman has product to fit everything from 50-foot lots to estate-size lots, with home prices ranging from $600,000 to about $1.5 million. But every home is drawn to the customer's specifications, so there's no duplication, he says.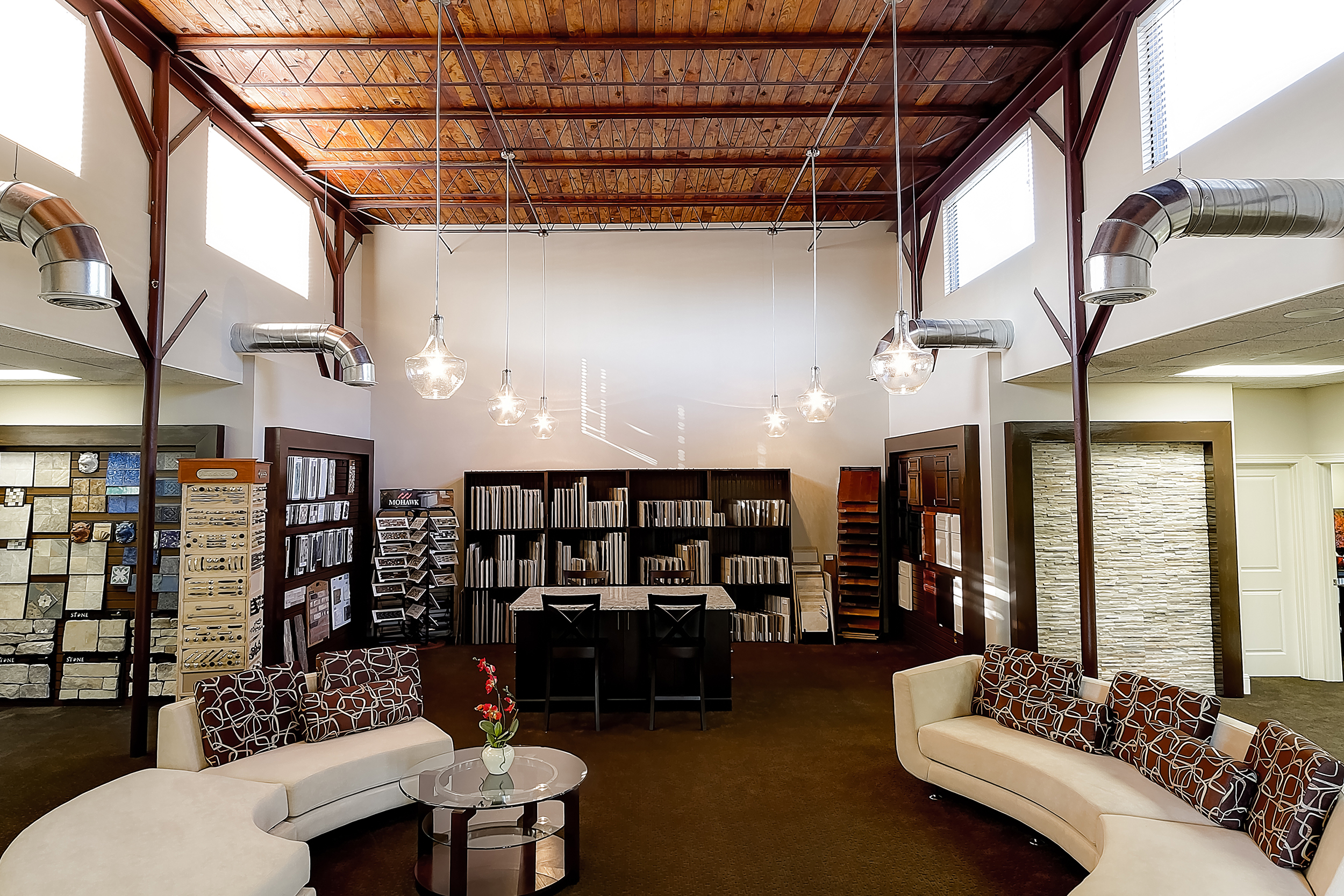 Silliman Homes opened a 2,600-square-foot design center in downtown Orlando to cater to the company's new customer base (Photo: Bachman & Associates).
"You pick the plan and lot size you want, and then we find the worst house in the best neighborhood," Silliman says. "You know what [that house costs] and you know what our house price is—it's a reliable way to know whether you're within your budget or not. The Dream Planner does your mortgage application and gives you guidance on payments." 
Silliman also opened the Silliman CitySide Design Center, a 2,600-square-foot design studio in downtown Orlando that will exclusively cater to the builder's new customers. Silliman's partner, Mark Vergason, is providing the marketing expertise for the new company and is also a long-time advertising executive with Vergason Sojourner & McWaters, in Winter Park, Fla. Eventually, the two men hope to extend their concept nationally. 
"I look at it in 10-year increments," Silliman says. "Over the next [decade], people are going to move back into the urban core. And the Millennials all want to live downtown. It's a stretch for them to afford it now, but they'll be able to when they're 40 or 45 years old."
Rebuilt from the ground up
Allen Associates, now called Allen Construction, was founded 
33 years ago in Santa Barbara, Calif. "Our logo was very 1980s in its look and feel and, as a result, had become quite dated," says Bryan Henson, president.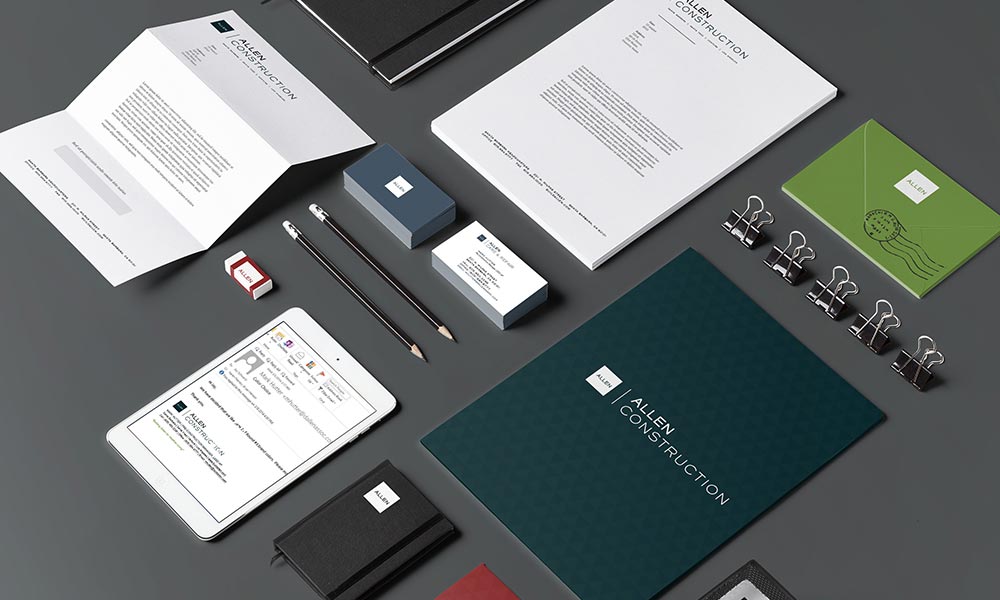 IdeaWork Studios developed all-new collateral for Allen Construction, including business cards, letterhead, and brochures.
For some time there was resistance to changing the logo at the management level, Henson says, because "[the managers were] concerned that the logo was well known and identifiable within our service areas, and that changing it would mean a loss of business."
Gearing up for rebranding 

* Regularly evaluate your branding strategy, especially whenever there's a major change, such as the purchase or sale of the company; expansion into new markets; or a lack of business when the competition is winning projects of a similar scope and price. 
* Don't settle for off-the-shelf solutions. Your new identity, like your homes, should be one of a kind. 
* Get expert help, preferably from a local marketing agency that can meet with you and 
make presentations face to face. 
* Don't try to do everything at once. Rebuilding a website and changing a logo, signage, and collateral is expensive. Do a little at a time, as 
your budget allows. 
* If you can only focus on one thing, make it your website. A good one can go a long way toward getting your message across. Invest as much as you can in search engine optimization (SEO) and rankings, not just design.
Allen Associates finally transitioned to a new logo in 2012 as part of a marketing-plan contract with an outside consultant, but wasn't really happy with it. At the same time, the company name was changed to Allen Associates Construction. "There was a CPA in town named Allen & Associates, which had long created confusion for architects, vendors, and potential clients trying to contact us," Henson says.
In November 2013, the company signed a contract with IdeaWork Studios, a branding and interactive agency founded 
in Santa Barbara 15 years ago. "We selected IdeaWork because they 'got' what we wanted to do," Henson says. "They listened and came back to us with a very clear and creative approach. And they weren't afraid of pushing us when we needed to be pushed."
IdeaWork strongly encouraged the company to change its name to Allen Construction, which more accurately reflects the work it does, and to redesign the website to convey a more sophisticated and elegant presence. To further unify the new branding, IdeaWork developed a consistent look and feel for the logo, collateral, and messaging for Allen's divisions and consolidated them into one website, rather than giving each division its own autonomous identity. 
As a result, there is greater consistency in marketing and branding for the Custom Building & Remodeling; Building Care 
& Repair; Building Performance Specialists; Commercial; and Kitchen & Bath Design divisions. Each division's unique personality and ability to reach a unique target market is being maintained and communicated. 
IdeaWork also gave the website a cleaner, more sophisticated look; tightened up marketing messages; and added an Estate Services division. 
"Our strategy rebuilt the Allen brand from the ground up, which included renaming the company and its divisions and ultimately paring it down to a more concise, unified identity," says Jay Schwartz, IdeaWork's founder and chief creative officer. "This better reflects the company's craftsmanship and services and makes it more intuitive for their customers." 
Feeney adds, "We've received a very positive response to our new look from both inside and outside the company."