Technically, the custom home builder could be relegated to being merely the hired hand, kind of like a subcontractor. The typical custom home client owns the building site, so the property is theirs, and the builder is hired to do what ever the client tells them to do all the way through the process.
"I have done many projects where I felt like there was no budget at all," says Glenn Carter, president of Advanced Building Consultants (ABC), Renton, Wash. "It was like working for somebody who has all the money in the world, and I felt like there were almost unlimited requests for pricing, and options for changes, and this and that because there was no budget."
A change of heart—such as a client's hankering during framing to have private rather than Jack-and-Jill bathrooms or changing an originally planned open-space layout after the drywallers finish by adding a knee wall between the kitchen and family rooms—puts pressure on schedule and costs. A builder can accommodate every change request thrown at them, but fail to move the customer into their new home in time to host the family Christmas party or blow the final bill far above the original estimate, and it's all for naught.
"We thought we were making the customers happy by allowing them to make changes all along the way," says Scot Clark, executive vice president of operations for Edward Andrews Homes, Atlanta. "The problem with that is we wound up over budget and over time, so they got the big surprise at the end."
Production and semi-custom home builders can offer a level of customization by preselecting and thus limiting the options from which buyers are allowed to choose. Custom builders can't do that. The core of what they do is to let their clients select whatever they want. So their situation is open-ended and restrained by the client's taste and budget. But the budget, particularly if the customer has borrowed money to build, can bring a level of sanity to a project and is one element Carter leverages to keep his projects from spinning into chaos.
"Budgets are what saves the day for us," Carter says. "Budgets allow us to politely point out to our clients that they do have limitations, and there's no point for us to estimate the cost of an upgrade for a welded steel countertop when we know that it costs $100 per square foot. There's no point in us wasting our time in pricing it, so budgets help us because they place limits on what the clients can request and the work we have to do."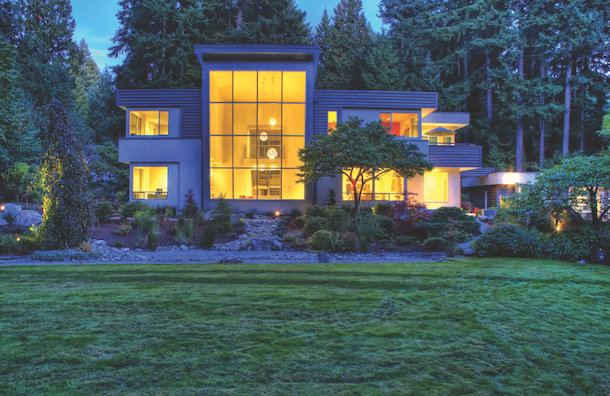 ABC built this 5,000-square-foot home in Bellevue, Wash., featuring a double-height living room with a window wall that gives the owners the feeling of sitting in the front garden.
Unlike 2009 and 2010 when banks weren't lending and half of ABC's clients paid cash for their homes, Carter's current clients borrow money, so schedule looms larger for them. A change in the plan pushes back the finish date, which means the client will have to withdraw more money from the bank and pay more interest.
Another lever for ABC is basing its
compensation
on costs plus a fixed management fee rather than being paid based on a cost plus variable, or cost plus percentage—practices that can incentivize builders to run up charges. At the start of a project, Carter completes a cost analysis based on a set of plans, review of the site, utilities, features, and a complete set of specifications. He determines what ABC's fixed fee will be at that time, and the fee only changes if the client wants to alter a structural aspect of the building, which requires changes in zoning and permitting. 
"We're trying to take the chaos out of it; we're trying to not make it turn into a nightmare," Carter says. "We're trying to stay friends with our clients. When they see my fee, and they know it's locked, and they see the whole project gets done, and I stick with my fee the whole way, that builds up a whole lot of good will, and we have a lot of satisfied clients."
Getting to the end of a project and staying in the client's good graces requires lots of
communication
before ground breaking and throughout the process. Carter says his company "overwhelms" the client with websites, links, descriptions, and meetings to explain what their house will look like and how it will get there (This fall, he'll break ground on what will be a certified Passive House in Issaquah, Wash). Carter quips that he spends as much time emailing clients and vendors as he does on the jobsite. He actually prefers email to a phone call and got rid of his fax machine because he doesn't use it anymore. Email is documentable, savable, searchable and, if the message is unclear, he can just make a phone call for clarification.
"They're newbies. Even if they built a house before, it's 2014, and we build homes differently today. It all needs to be explained to them," he says. "So I spend an enormous amount of time explaining how things are going to be built, what they're going to look like and, of course, we have to be ready for them to say, 'I didn't know it was going to look like that, I don't like that.' We have to offer, not at our cost, but at their cost, to make a change. And we will be ready to tell them how the change will affect performance, and how it will affect price and schedule."
A critical policy that keeps projects from turning into nightmares is ABC's practice to have work done and material provided by "incumbent" vendors, suppliers, and trades. 
"We try to keep working with the same people over and over again because it becomes a well-oiled machine. You don't have to handle so many questions because you're not breaking in somebody new all the time. If the client suggests going with someone else, I will talk them out of that, and I will have lots of good reasons for doing so because I have a proven track record with (my guy). I know his quality. I don't know the other guy," Carter says.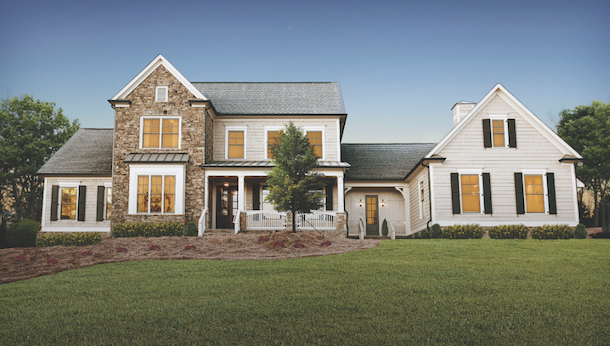 Lake Haven of Crabapple is a lakeside community in Milton, Ga., where Edward Andrews owns lots and builds  custom homes. The Madison is a 4,163-square-foot home featuring a two-story foyer and guest suite on the main floor.
About a year ago Edward Andrews Homes did what some might consider anathema in custom home client relations. The builder refused to take change requests once construction started. Rather than turning off prospects, the builder has more satisfied customers than before the policy was implemented because more homes are completed on time. Compared with other custom builders who typically build on the customer's lot, the Atlanta company does have more leverage, as it owns the lots in the communities in which it builds and provides financing. Yet the success of the no-changes policy is empowered by lots of communication upfront, design consultants, and proprietary software that steers clients toward picking options based on their likes and dislikes, making them more confident about their choices. 
The approach is the result of focus groups, tons of research, and boils down to this understanding: Clients are not designers. When they walk into a showroom they are overwhelmed by the choices available. A lack of confidence in their choices leads to indecision. But honing down the choices to several selections, without limiting the options available, makes for an easier decision than does picking from dozens.
Edward Andrews started with 2020 Design, a Web-based interior design software from 20-20 Technologies, and added proprietary features using Myers Briggs personality testing as a framework, and then overlaid the digital experience on the builder's purchase order management system. Clients attend a series of meetings with designers—two to four depending on the scope of the work—to go over options for specific elements of the house such as the kitchen, master bath, exteriors, windows, cabinets and countertops, plumbing and lighting, and finally interiors. However, the first appointment is with an architectural specialist to go over what the clients want from a structural standpoint, and a rendering of a home is created at that meeting.
Before each session, the clients are given homework. The design program guides users through a quiz that asks what they like and don't like. For instance, the program asks if you like light kitchens or dark kitchens? Based on the answer, users are presented categories of cabinets and countertop choices that are consistent with their expressed preference. Upon completing the quiz, the program displays a 3D and 360-degree rendering of their room. If clients don't like what they see, they can re-render the virtual room by changing out the options. 
"Each time we're honing in on the area that we're going to be talking about rather than thinking about the whole house. The designer starts putting together how the next portion of what they are doing fits with what they were doing the last time," says Todd Andrews Hager, president and chief operating officer.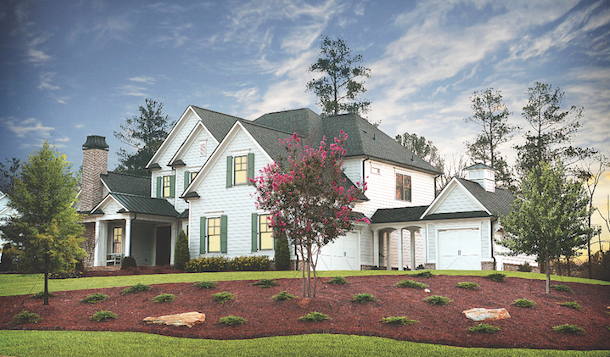 The Denton is 4,163 square feet with a side-door entrance and accompanying mudroom plus keeping room adjacent to the kitchen.
Also the designers, rather than acting as mere order-takers, affirm their clients' preferences and recommend tweaks during the meetings. 
"If our customer comes back a week later and says, 'I want to change this,' our designers give them the confidence to let them know that what they did was right. We keep them on track with what they picked and being confident with what they picked and how good it's going to look," Clark says.
As with Carter, communication upfront is important. Edward Andrews agents explain to clients that they can customize their home all they want, but no changes are allowed once construction starts because being able to build in a production manner will deliver their house on time and on budget. Clients even sign a covenant acknowledging they understand the Edward Andrews Homes' policy.  The dialogue continues throughout the construction phase as company sales agents call clients every Friday with progress reports and answer any questions.
Although it hasn't happened, should a client persist in making  a change after construction has started and Edward Andrews can't talk the customer into staying with the plan, Hager and Clark said they would release that buyer from the contract. Then they'll finish the home and sell it as a spec. 
"We are very clear upfront that this is the way we build homes and if you want to change your mind all along the way you probably need to find a different builder. As long as we are clear upfront, we're not going to get a lot of customers that really want to change their mind throughout the process," Hager says. CB